Motion Control System optimizes machine automation.
Press Release Summary: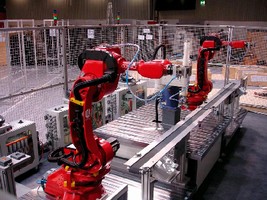 Generic Motion Control combines robotics, complex CNC 3D processing, linked axis movements, and single-axis positioning in one homogenous system. CNC cycle times of 400 µs allow path precision in sub-micron range. In addition to parameter configuration and movement program operation, predefined visualization components provide simulation, logging, and process diagnostics. Flexible system architecture and large number of functions enable machine line customization.
---
Original Press Release:

Integrated Automation Platform for CNC, Robotics and Axis Linking in One Homogeneous System



For machine automation, everyone needs to integrate movement and path control, connect drives and have functions such as visualization, I/O processing and communication available to them. Until now, this created some difficulty because suitable systems for this type of homogenous integration were not available.

Anthropomorphic robots, complex CNC 3D processing, multiply linked axis movements, single-axis positioning that can be modified in real-time - each of these up to now represented a separate area of technology. B&R has introduced a complete platform that combines all components in one system. B&R's "Generic Motion Control" includes drives, movement and path control, visualization and I/O handling. In particular, path control with CNC functionality works as an integral part of the complete automation system, which can be configured with a single software tool.

A complete platform

What makes it so versatile? For one, the real-time operating system creates the environment needed for high-precision positioning tasks. CNC cycle times of 400 µs allow path precision in the sub-micron range. Generated set positions are transferred to the drive without jitter via POWERLINK. Additionally, the required I/O points can be added to the system in an extremely flexible manner.

Predefined visualization components can also be used to create complex machine functions. In addition to "classic" components such as parameter configuration and movement program operation, this also includes tools for simulation, logging and process diagnostics. This provides the foundation for all custom visualization solutions.

The flexible system architecture and the large number of functions make it possible to customize a machine line to meet specific customer requirements. Not to forget the fact that the actual expertise of an automation solution can be encapsulated in the application layer rather than built directly into the CNC core, as is the case with other methods.

The Soft CNC has an extensive list of functions. Part programs and movement procedures are programmed according to DIN 66025. Division into main and sub-programs allows clear management of NC programs. Helpful functions have also been added to the basic functions defined in the standard. The extended programming techniques permit the use of elements from a high level language, such as loops, conditional statements and branches.

Data from application programs on the PLC is exchanged using a powerful interface. Various access functions allow program execution to be controlled in real-time. Data, such as the tool radius or even end points of path sections, can be changed while the program is being executed, and certain data is available synchronous to the path.

Summary:

Generic motion control combines the worlds of robotics, CNC, linked axis movements and single axis positioning in one homogenous system. Knowledge of complex path designs for robots is applied to tool and production machines. The control of anthropomorphic robots is also possible, as is complex CNC processing in 3D. The connection of I/O nodes and the direct linking of PLC functions provide additional advantages for simple implementation of automation processes.

Another advantage: Industrial PCs, powerful CPU controllers, servo technology, I/O system products and Ethernet network components come from a single source - developed and produced by B&R. For automation engineers, this means fully integrated system technology that can be configured using a single software tool.

More from Packaging Products & Equipment