Motion Control Software targets smartphones and tablets.
Press Release Summary: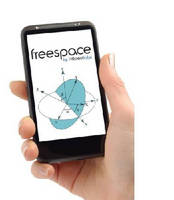 Freespace® MotionEngine(TM) for Mobile optimizes performance of motion sensors found in smartphones and tablets, including accelerometers, magnetometers, and gyroscopes. Accurate sensor fusion enables precise tracking of phone's motions and surroundings that can be applied to context awareness applications. With Freespace Gesture Recognition Engine, users can perform motion gestures to accomplish simple tasks. Program additionally supports augmented reality, gaming, and pedestrian navigation.
---
Original Press Release:

Hillcrest Labs Unveils Next "Movement" for Smartphones and Tablets



- Introduces Freespace® MotionEngine(TM) for Mobile -

- Advanced motion control technology provides foundation for context awareness, augmented reality, pedestrian navigation, health and fitness, gaming, gesture control, and more -

ROCKVILLE, Md., -- Hillcrest Labs today announced that its award-winning natural motion control technology, Freespace, is now available for manufacturers and component suppliers of smartphones and tablets. Hillcrest's new Freespace MotionEngine for Mobile is an embedded software solution that manages and enhances the combined performance of motion sensors commonly found in smartphones and tablets - accelerometers, magnetometers, and gyroscopes - to enable today's motion-based applications and provide the foundation for next-generation user experiences.

According to information and analytics provider IHS, shipments of motion sensors in cell phones and media tablets will rise to 4.2 billion units in 2015, up from 1.5 billion in 2011(1). For years, Hillcrest has provided motion control technology to the Smart TV, video game, and PC industries, licensing its technology to companies such as LG Electronics, Roku, Sony Computer Entertainment Inc., and others. With the increased adoption of motion sensors in smartphones and tablets, Hillcrest now offers some of the most advanced, flexible, and cost-effective motion control technology to create differentiated products and applications for this growing market.

"The smartphone industry is at a key inflection point with motion control," said Chad Lucien, senior vice president of sales and marketing for Hillcrest Labs. "Motion sensors are now standard in mobile devices, but today's motion software implementations impose significant constraints that limit sensor choice, integration flexibility and performance. We aim to change that. Our Freespace MotionEngine for Mobile provides a unique software solution for Android(TM) and Windows® 8 smartphones and tablets, which delivers the highest performance and provides the most flexible integration options, while enabling manufacturers to use sensors from any major supplier in the market."

"Smartphones are becoming more and more advanced, ushering in new applications for medical services, navigation, augmented reality, gaming, and more," said Jeremie Bouchaud, director and senior principal analyst, MEMS and sensor for IHS. "Hillcrest has a track record of providing advanced motion control products to some of the largest consumer electronics manufacturers in the world. As the demand for more sophisticated motion control technology grows within the smartphone and tablet industries, companies are now seeking more versatile software that provides a common platform to allow innovation across devices."

Potential Uses and Applications

The mobile industry has a specific set of sensor requirements, including the need to work with a variety of sensor suppliers and application processors across multiple mobile operating systems, maintain low costs, minimize battery usage, and extract the maximum performance out of the available sensors. The expanded use of multiple sensors in smartphones and tablets will require better sensor fusion and calibration to improve accuracy and support more advanced applications.

Freespace MotionEngine for Mobile is a necessary foundation for a variety of mobile applications, such as:

-- Context Awareness: The accurate sensor fusion provided by the MotionEngine software enables precise tracking of a phone's motions and surroundings that can be applied to context awareness applications. For example, the phone could perceive a car accident or a bad fall, query the user with a beep, and send a distress message or an emergency call if the user does not respond in a timely manner.

-- Pedestrian Navigation: The MotionEngine software provides a key building block to support improved navigation applications to augment GPS for use in instances when GPS is not available or not accurate enough. For example, the phone could sense that a user was walking in a shopping mall, calculate location using Wi-Fi signals, monitor the user's pace, and present the user with a coupon or special offer when they approach a certain store.

-- Augmented Reality: Smartphone suppliers can benefit from Hillcrest's proven experience providing companies such as Kopin and Sensics with advanced motion control for their head mounted computers and augmented reality applications. Using similar technology, the MotionEngine software can provide the foundation to create more advanced applications or improve the performance of existing augmented reality applications.

-- Health and Fitness: The MotionEngine software can be used in mobile devices to monitor users' physical activities. By calibrating and fusing sensor data, a more accurate picture of user activity can be created, without excessive battery use. Therefore, MotionEngine software can enable new health and fitness applications, such as activity tracking for calorie counting and diet purposes and effectiveness assessments of exercise regimes and physical therapist treatment.

-- Immersive Gaming: The MotionEngine software can support more immersive and precise motion gaming applications that make full use of the gyroscope and the complete sensor configuration. For example, the phone could be held and swung like a golf club to play a virtual outdoor game of golf on the sidewalks of San Francisco. The phone could also be used as an in-air mouse to control an onscreen cursor and play casual games on Smart TVs.

-- Gesture Control: Accurate sensor fusion coupled with the Freespace Gesture Recognition Engine allows users to perform motion gestures to accomplish simple tasks. For example, users can flick their phone to the left to go back in browser, or adjust the volume by tilting the phone to the left or right.

Freespace Benefits and Advantages for Smartphone and Tablet Suppliers

Hillcrest's core Freespace MotionEngine software, on which the new smartphone platform is based, was recently selected as a prestigious 2012 International CES Innovations Design and Engineering Awards Honoree. Hillcrest has been a pioneer in this field for more than 10 years and offers unique benefits and advantages to the smartphone market, such as:

-- Sensor Agnostic Solutions: Hillcrest's MotionEngine software works with sensors from all major suppliers and Hillcrest can help companies qualify sensors based on specific performance and pricing needs. Hillcrest's sensor agnostic solutions enable lower costs by providing multiple supply choices to manufacturers and suppliers, while maintaining high performance standards.

-- Superior Sensor Performance: Hillcrest's proprietary static and dynamic calibration processes deliver the industry's highest motion processing performance, backed by proven mass-market deployments of major CE companies.

-- Minimal Power Consumption: With Hillcrest's MotionEngine software, sensors can be context-aware to know when they are needed or not, shutting on and off to preserve battery life.

-- Essential Patent Portfolio: Hillcrest's global intellectual property portfolio includes more than 60 issued patents, with more than 200 applications pending, and provides reassurance to customers bringing new motion-based products to market.

-- Flexible Implementation Options: With a modular software architecture and flexible implementation options for processor locations, sensor configurations, and operating system support, Hillcrest can support a wide range of applications and devices.

Hillcrest has received numerous awards and recognitions including the prestigious CES Innovations Honoree Award multiple times, EE Times' ACE Award, PC World's 100 Best Products and Greatest Tech Designs, Popular Mechanics' Editors Choice, ECN's Reader's Choice Tech, and many others. Additional information about Hillcrest's broad portfolio of natural motion control products is available at www.hillcrestlabs.com.

About Hillcrest Labs

Hillcrest Laboratories (a.k.a. Hillcrest Labs) is a market leader in multiplatform motion software and products. The company provides motion solutions under the Freespace® brand for Smart TVs, smartphones and tablets, consumer electronics, and other markets. Companies that have licensed Hillcrest's technology for use in their products include: Eastman Kodak, LG Electronics, Logitech, Roku, SMK, Sony Computer Entertainment Inc., Universal Electronics (UEI), and others. For consumers, Hillcrest offers the Kylo® browser, a free Web browser for TV. For additional information, visit www.hillcrestlabs.com.

Hillcrest Labs, Freespace, and MotionEngine are trademarks of Hillcrest Laboratories, Inc. All company names and other trademarks remain property of their respective owners.

Source(1): IHS iSuppli H2 2011 Consumer & Mobile MEMS Market Tracker: http://www.isuppli.com/MEMS-and-Sensors/Pages/Consumer-MEMS-Continue-to-Thrive-on-Smartphones-Tablets-and-Ultrabooks.aspx

More from Cleaning Products & Equipment