Mortar Mixers work with stiff and abrasive media.
Press Release Summary: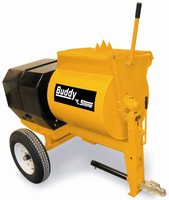 Mounted on heavy-duty tires and powered by Honda gas engines or electrical motors, Buddy by Stone mixers are comprised of 3 belt-driven models and one fully-enclosed gearcase model. Drum profile eliminates dead zones, and 8-paddle configuration delivers dynamic mixing. Offered as true 2-, 3-, and 4-bag mixers, models EXD850, EXD1100, and EXD1300 feature respective capacities of 8, 11, and 13 ft³. Each is fabricated with ¼ in. steel plate and heavy-duty, all-welded grate.
---
Original Press Release:

Stone Adds Buddy By Stone Line of Mortar Mixers



Stone Construction Equipment, Inc. has acquired the patents and marketing rights to Buddy Equipment Mortar Mixers. The Mixers, which will be marketed under the "Buddy by Stone" label, consist of three belt-driven models and one fully-enclosed gearcase model. The Buddy by Stone EXD850, EXD1100 and EXD1300 Mixers have capacities of 8, 11 and 13 cu.ft. respectively, and are considered to be true 2-, 3- and 4-bag mixers.

The extreme-duty mixers are designed to address applications that require a more robust, heavy-duty mixer, such as specialty mix applications where the mix is stiffer or much more abrasive. The applications could include, but are not limited to, curbing, terrazzo, or special additive mixes.

Buddy by Stone Mixers are designed with several patented and patent-pending features.
o An eight-paddle configuration that delivers "dynamic mixing", delivering a more complete blend in the first minute of mixing.
o A unique drum profile, which eliminates the dead zone in a mixer, puts the paddles in more complete contact with the entire mix.
o The pending patent cowl design allowing the engine to be started and operated without ever opening the cowl.

The mixers are fabricated of ¼" steel plate, and a heavy-duty all welded grate with a triple-ever-sharp bag splitter.

Buddy by Stone Mixers also include many of the industry-leading features currently found on Stone Champion Mixers which increase serviceability and operator-friendliness, including:
o Stone's exclusive quadruple seal and bearing system in a patented removable housing for superior performance and longer life. The system carries a lifetime warranty.
o Patented lift-away safety guard to move the drum guard out of the way while dumping.
o Front post hand clutch for easy dumping.
o Extra-long, heavy-duty tow pole with a ball hitch and safety chains standard.
o Stay-level engine platform.
o Two-year drum warranty.

All four models of the Buddy by Stone Mixers are powered by either Honda gas engines or electrical motors. The mixers are mounted on heavy-duty, high speed tires.

Stone Construction Equipment, Inc. a 100% employee-owned American company is a leader in design, manufacture, and marketing of construction equipment. Right Built products distributed worldwide include concrete, mortar, and silo mixers, grout placing systems, hand held compaction equipment, ride-on and walk-behind asphalt and dirt rollers, trench compactors, power trowels, material handling equipment including lifts and buggies, concrete / pavement and masonry block saws and concrete vibrators and screeds.

More from Construction Equipment and Supplies