Monolithic Converter offers 1 minute accuracy option.
Press Release Summary: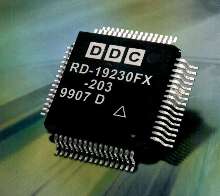 Model RD19230FX resolver-to-digital converter provides programmable 10, 12, 14, and 16-bit resolution, dual bandwidth and tracking rates, +5 V only input power, synthesized reference, and A quad B encoder emulation. It utilizes 10 x 10 mm, 64-pin plastic quad flat pack. Operating temperature is -40 to +85°C. Typical applications include motor control, radar antenna position, machine tool control, robotics, and process control.
---
Original Press Release:
New 1-Minute Accuracy Resolver-to-Digital Monolithic Converter

Bohemia, New York, May 23, 2003 - Data Device Corporation announces the release of a new 1 minute accuracy option for its low cost resolver-to-digital monolithic converter, the RD-19230FX. The RD19230FX provides higher accuracy than was previously available in a resolver-to-digital converter. "Today's motion control engineers require higher accuracy converters to improve efficiency and meet tighter tolerances" say's Jack Redus, Marketing Manager for DDC's Motion Control Product Line. The RD-19230FX also provides features such as programmable 10, 12, 14, and 16-bit resolution, dual bandwidth and tracking rates, +5 volt only input power, internal synthesized reference, and A quad B encoder emulation. Typical applications include motor control, radar antenna position, machine tool control, robotics, and process control. The RD-19230FX is available with operating temperature ranges of -40 to +85°C (RD-1 9230FX-205) and 0 to 70°C (RD-19230FX-305). The RD-1 9230FX utilizes a 10 x 10 mm, 64-pin, plastic quad flat pack.

For further information, visit the DDC web site at http:/www.ddc-web.com or contact Jack Redus at redus@ddc-web.com or phone: 631-567-5600 ext 7429

Data Device Corporation is an international leader in high-reliability data networking conversion interface cards, components and IP core solutions for both military and commercial applications. Established in 1964 with the introduction of the first synchro-to-digital module, DDC has design and manufacturing facilities in their Bohemia, New York headquarters and Cork, Ireland