Monochromatic Sensor enhances mobile device biometric security.
Press Release Summary: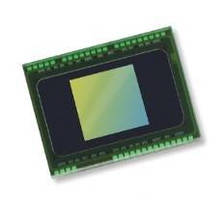 Leveraging 1.12 micron pixel technology and optimized IR sensitivity, PureCel® OV2281 can enable iris recognition for biometric security on smartphones, tablets, and notebooks. Ability of this 1/7.5 in. sensor to record 1080p HD video at 60 fps in both portrait and landscape orientation supports iris detection in either situation.  When recording full-resolution 1920 x 1920 video at 30 fps, sensor requires 120 mW. ULP mode reduces power consumption to ~25 mW.
---
Original Press Release:

OmniVision's New OV2281 PureCel® Sensor Brings Biometric Security to Smartphones, Tablets and Notebooks



Low-Power and Ultra-Compact Sensor Enables Iris Detection in Both Portrait and Landscape Orientations



SANTA CLARA, Calif. -- OmniVision Technologies Inc. (NASDAQ: OVTI), a leading developer of advanced digital imaging solutions, today announced the OV2281, a new PureCel(®) sensor that brings enhanced biometric security functionality to mobile devices. The low-power, ultra-compact OV2281 leverages OmniVision's 1.12-micron pixel technology and optimized IR sensitivity.  Its advanced capabilities can enable accurate and reliable iris recognition for smartphones, tablets and notebooks, in both landscape and portrait orientations.



"With the convergence of digital identities, security concerns and mobile commerce, industry experts project that 13 billion biometric applications will be downloaded by 2.2 billion mobile users between 2014 and 2020,[1" said Archie de Guzman, staff product manager at OmniVision. "In this context, iris detection appears poised to become the next trend in biometric security for mobile devices.  The OV2281 therefore enters the market as an extremely compelling solution by offering accurate horizontal or vertical iris detection in a compact and power-efficient package."



The 1/7.5-inch OV2281 PureCel sensor can record 1080p high-definition video at 60 frames per second (FPS) in both portrait and landscape orientation, thus supporting iris detection in either situation. When recording full-resolution 1920 x 1920 video at 30 FPS, the sensor requires just 120 mW. It also supports an ultra-low power mode that can reduce power consumption to approximately 25 mW. As a monochrome sensor, the OV2281 boasts exceptional IR sensitivity.  This sensitivity allows it to produce clear and fully stable images in difficult low-light conditions.



The sensor fits into a 5.5 x 5.5 mm module with a z-height of less than 4.5 mm. The OV2281 is currently in volume production.



About OmniVision

OmniVision Technologies (NASDAQ: OVTI) is a leading developer of advanced digital imaging solutions. Its award-winning CMOS imaging technology enables superior image quality in many of today's consumer and commercial applications, including mobile phones, notebooks, tablets and webcams, digital still and video cameras, security and surveillance, entertainment devices, automotive and medical imaging systems. Find out more at www.ovt.com.



OmniVision® and the OmniVision logo are registered trademarks of OmniVision Technologies Inc. PureCel(®) is a trademark of OmniVision Technologies Inc. All other trademarks are the property of their respective owners.



[1 Acuity Market Intelligence, "Biometrics on Smart Mobile Devices to Redefine Digital Identity with 12.9 Billion Biometric App Downloads between 2014 and 2020," July 20, 2015



CONTACT: Media Contact: Cameron Crowe, Impress Labs, 415.735.8420, cameron@impresslabs.com; Company Contact: Scott Foster, OmniVision Technologies, 408.567.3077, sfoster@ovt.com

More from Fluid & Gas Flow Equipment