MonitorIQ Media Management Platform Updated with Support for H.265 Recording
Press Release Summary: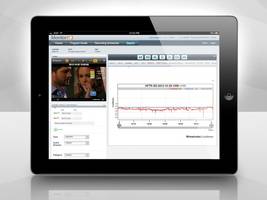 Digital Nirvana, Inc.'s MonitorIQ media management platform enables broadcasters to monitor their video and meet compliance requirements. The latest updates to the platform include the search filter options, the ability to select multiple alert trigger types, and support for network tuner devices and IPTV protocols. MediaIQ is ideally suited for the media and broadcasting industry.
---
Original Press Release:
IBC 2018: LATEST UPGRADE TO MEDIA MANAGEMENT PLATFORM FROM DIGITAL NIRVANA MAKES IBC2018 DEBUT
Fremont, CA, August 15, 2018 – Digital Nirvana, a global provider of media solutions and services, will introduce Version 5.2 of its MonitorIQ media management platform to the international audience at IBC2018 in Amsterdam. Digital Nirvana will exhibit in Hall 14, Stand D05, during the convention which runs from September 14-18 at the RAI Amsterdam.
The latest version of the company's flagship MonitorIQ Media Management Platform offers a host of new user-friendly features, including support for H.265 recording, strengthened IPTV protocol support for and updated calendar controls.
"Our research and development team has been continuously looking to enhance the end-user experience by adding new features since the launch of MonitorIQ in 2009," said Digital Nirvana's CEO Hiren Hindocha. "We are eager to bring this latest version to the international stage at IBC. We're looking forward to showcasing a platform that is extremely stable, effective and user friendly. The focus of Version 5.2 is to improve the end-user experience and make the platform as efficient and easy to use as possible."
MonitorIQ Version 5.2 screen shot
The MonitorIQ platform enables broadcasters to monitor their video and meets compliance requirements. It delivers a full range of multi-channel signal monitoring, logging, loudness monitoring, compliance, competitive analysis, advertisement verification, content repurposing and archiving functions - enabling broadcasters to capture live content from multiple sources live and check the video for quality and compliance. MonitorIQ features a powerful content retrieval system called SmartSearch and operates in a centralized management server environment– which unites all units deployed throughout the system to one central point.
New features of MonitorIQ Version 5.2 include:
•           Search filter options with updated easy-to-use calendar controls
•           Provision to select multiple alert trigger type (e.g. Email, SNMP, Trigger URL) configurations
•           Settings to configure player options like Closed Captions, Subtitles, Teletext, NAC, LKFS, and ratings
•           Enhanced geographic time zone gets displayed to identify from where the content has been broadcasted
•           New options in NAS configuration to change retention period of original and proxy encoded files in storage before moving to NAS (Storage space can be used more effectively)
•           Enabled Player controls in full-screen mode
•           Simplified "Date" and "Time" search filters controls
•           Support for network tuner devices using network device discovery (via SSDP)
•           Improvement to supported IPTV protocols (MPEG-TS over HTTP)
•           Performance optimization for recording multiple channels from a single input
•           Support for recording H.265 in MPEG-TS
First introduced in Las Vegas at the NAB Show last April, the enhanced version of MonitorIQ will also be demonstrated in New York City from October 17-18 at the NAB Show New York. Look for Digital Nirvana there in Booth N546 at NAB New York in the Jacob Javits Center.
Digital Nirvana has provided knowledge solutions and services for customers worldwide. Broadcasters and media companies rely on Digital Nirvana's innovative solutions to improve operations, ensure compliance, cut costs and protect revenue streams. DN's solutions help broadcasters capture content from multiple sources, create content and publish to various digital platforms while monitoring for quality and compliance. With this rollout, Digital Nirvana is hopeful to scale new heights serving the media & broadcasting industry across the world.
About Digital Nirvana
Since 1996, Digital Nirvana has been empowering customers with innovative knowledge management technologies. By combining media and digital technology expertise, Digital Nirvana makes it possible for organizations to streamline operations and gain competitive advantage with advanced product and service offerings. A comprehensive service portfolio includes media monitoring and analysis, market intelligence and analytics, and learning management services. Digital Nirvana is headquartered in Fremont, California with offices in Hyderabad and Coimbatore, India.