Monitor detects ferrous debris in oil.
Press Release Summary: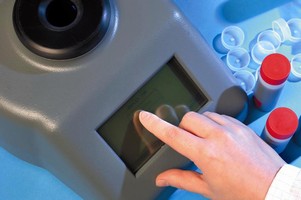 ANALEX® FDM detects and measures ferrous wear debris in lubricating oils, hydraulic oils, and greases with resolution of 1 ppm in range of 0-2,000 ppm. Test data can be time stamped and stored in internal memory, then transferred to database on host PC using RS232 interface. Data entry via touch pad screen can include equipment identification, sample number, and lubricant hours. Self-contained, rugged, bench or portable unit is supplied protective portable carrying case.
---
Original Press Release:

New ANALEX® FDM provides Onsite Detection of Ferrous Debris in Oil



Condition monitoring of machinery lubricants is an established method of predicting and avoiding impending machinery breakdown. Now, with Kittiwakes' Ferrous Debris Monitoring technology, worn machinery parts can be identified early and replaced before any serious damage occurs.

The ANALEX® range of Ferrous Debris Monitors from Kittiwake Developments Limited provide the most accurate means of detecting and measuring ferrous wear debris in lubricating oils, hydraulic oils and greases. The rugged, compact and stable monitors deliver retrievable data quickly and simply, ensuring fast, accurate and consistent management of lube condition samples. Ideal for all industrial sectors from power plants, to mines and quarries, railways and heavy construction, the latest addition to Kittiwake's range, the ANALEX® FDM Ferrous Debris Monitor, improves production efficiency, reduces equipment downtime and increases operational profitability wherever it is utilised.

New ANALEX® FDM Ferrous Debris Monitor

The ANALEX® FDM is an extremely accurate, self-contained, rugged, bench or portable unit designed for use in laboratories, on-site or in remote field locations where laboratory analysis is often impractical or impossible. The FDM provides engineers with a means of 'on-the-spot' measurement of ferrous wear debris in the lubricant and or grease samples. Such information assists the engineer or laboratory technicians in planning preventative maintenance programs, and helps ensure informed decision-making when assessing machinery and equipment condition.

Utilising the latest in Inductive Coil Magnetometry the ANALEX® FDM detects and measures the mass of ferrous wear debris within a lubricant or grease sample, irrespective of the size of the wear particles present. The result is displayed in PPM (parts per million). The PPM result can then be trended with accepted linearity over a wide range of ferrous debris content and particle sizes.

The ANALEX® FDM is designed to detect un-combined ferrous debris in the oil or grease samples taken from all types of lubricated machinery. With a display resolution of 1ppm and a range of 0-2000ppm the unit is an extremely useful onsite tool which can provide readings within 10 seconds. Data from each test is stored in the internal memory, which may then be transferred to a database on a host PC via an RS232 interface. The unit is supplied ready for use in a protective, portable carrying case.

Data entry is via a simple and intuitive touch pad screen which can record; Automatic date and time linked to each equipment or sample number, Equipment number or identification, Sample number or identification and Lubricant Hours (0 - 999999 hrs).

The ANALEX® FDM instrument is the latest development in the on and offline range of wear debris analysis equipment from Kittiwake. Kittiwake Developments Ltd is a leading manufacturer of measuring, monitoring and management equipment for fuel, lubricating oil and water treatment. Operating worldwide through a network of agents and distributors, Kittiwake provides a complete range of test kits and analysis equipment for marine, industrial and offshore applications.

ENDS

Word Count 464

For further information, please contact:
Paul Froome - Marketing Manager
Kittiwake Developments Limited
Tel: 01903 731470, Fax: 01903 731480
Email: Paulf@kittiwake.com
® ANALEX, ANALEXpq and PQ are registered trademarks of Kittiwake Developments Limited.


More from Optics & Photonics