Molex Off-The-Shelf Micro-Fit Overmolded Cable Assemblies in Stock at TTI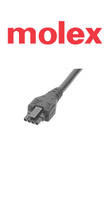 Fort Worth, Texas -- January 28, 2022 -- TTI, Inc., a leading specialty distributor of electronic components, announces the availability of the full range of Off-the-Shelf (OTS) Single Row Micro-Fit Overmolded Cable Assemblies from stock at TTI.
Molex and TTI continue to focus on and grow their range of OTS Cable Assemblies. The latest in stock are Micro-Fit Overmolded Cable Assemblies that complement their range of single row, Micro-Fit discrete products. Check them out and see how they allow you to try out an assembly and ensure it works for you before you order the custom-length product assembly that is perfect for your new design. Applications include consumer and industrial, to name but a few. They are in stock and available today at TTI.
To learn more, visit Molex Micro-Fit Assemblies at TTI, Inc.
About TTI
TTI, Inc., a Berkshire Hathaway company, is an authorized, specialty distributor of electronic components. Founded in 1971, the emphasis on a broad and deep product portfolio, available-to-sell inventory and sophisticated supply chain programs has established TTI as a distributor of choice to manufacturers in the industrial, defense, aerospace, transportation, medical and communications sectors worldwide. TTI and its wholly owned subsidiaries, the TTI Family of Specialists, Mouser Electronics, Sager Electronics and the Exponential Technology Group employ over 7,300 people in more than 136 locations throughout North America, South America, Europe, Asia and Africa. Globally, the company maintains over 3 million square feet of dedicated warehouse space in 30 distribution centers, housing over 850,000 component part numbers. For more information about TTI, visit www.tti.com
Contact This Company Download Spec Sheet
More from Construction Equipment and Supplies