Molded Glass Optical Components come in various styles.
Press Release Summary: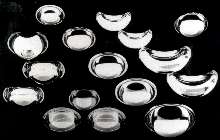 Precision lenses, mirrors, prisms, and reflectors, molded from crown (n
d
= 1.5230) and borosilicate (n
d
= 1.4719) glass materials, are available in sizes from 2-210 mm. Offered with single and multi-layer AR, dichroic, IR and metallic aluminum coatings, lenses include rod and blank-molded aspheric, bubble, cylindrical, fly's eye array, fresnel, integrator plate and wedge, piano, prismatic, relay and spherical types; while prisms include dispersing, dove, folding, penta, and edge types.
---
Original Press Release:

Molded Glass Optical Components


Small to large volume quantities of precision rod and blank-molded aspheric, bubble, cylindrical, fly's eye array, free from, fresnel, integrator plate and wedge, multi-array, piano, prismatic, relay and spherical lenses; concave first surface mirrors; dispersing, dove, folding, penta and edge prisms; ellipsoidal, multi-facetted, parabolic and prismatic reflectors from crown (nd = 1.5230) and borosilicate (nd = 1.4719) glass materials are available in sizes from 2mm to 210mm.

Single and multi-layer AR, dichroic, IR and metallic aluminum coatings are also available.

OEM applications include DMD, LCD and LCOS digital projection; copier, printer and scanner image processing; aircraft, airfield, entertainment, fiber optic, industrial, medical stage and theatrical lighting; microscopic, recognition, distance and surface geodetic surveying measurement; biometrics, digital imaging, preprint processing and photo-metrics opto-electronic, measuring rain, distance, dirt, filling level and road conditions remote sensing.

Effective Date: August 27, 2003

DOCTER OPTICS, INC.
A subsidiary of Docter Optics GmbH
1201 South Alma School Road
Suite 7550
Mesa, AZ 85210 USA

Telephone: (480) 844-7585
Fax: (480) 844-7826
E-mail: DOpticsinc@aol.com
Internet: www.docteroptics.com

More from Machinery & Machining Tools