Molded Foam Silicone Rubber Heaters improve thermal efficiency.
Press Release Summary: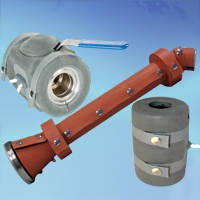 Intended for semiconductor equipment applications, SENTINEL™ Pump Line Heaters come in standard ID size diameters of 1.5, 2.0, and 4.0 in. straight sections, elbows, tees, reducers, and flanges. Heaters can also be easily designed to dimensions of valves, regulators, and other gas delivery and pump line components. These products are also available using structured silicone rubber heater and extruded silicone insulation technology.
---
Original Press Release:

Durex Industries Introduces SENTINEL(TM) Molded Foam Silicone Rubber Heaters



Cary, IL – Durex Industries, a leading North American designer and manufacturer of heaters, temperature sensors, controls and systems, recently announced the product introduction of the SENTINEL™ Molded Foam Silicone Rubber Heater.   In semiconductor equipment applications Durex Industries' SENTINEL™ heaters offer the advances of improved thermal efficiency, higher process temperatures, and reduced system cost.



Durex Industries developed this patent-pending advanced heater technology, because Semiconductor Equipment Industry engineers need thermal solutions that meet specifications for next generation manufacturing processes while reducing thermal system costs.    SENTINEL™ Pump Line Heaters are available in standard I.D. size diameters of 1.5, 2.0, and 4.0 inch straight sections, elbows, tees, reducers, and flanges.    The heaters can also be easily designed to the dimensions of valves, regulators, and other gas delivery and pump line components.



SENTINEL™ heaters are also available using structured silicone rubber heater and extruded silicone insulation technology.   Structured heater technology is used in many small ¼ to ¾ inch diameter gas delivery line applications and complex low volume applications.



About Durex Industries

Durex Industries is a vertically integrated, lean enterprise advancing the state of the art in industrial electrical heating, temperature sensing and control.  Headquartered in a 125,000 sq. ft. manufacturing facility in Cary, Illinois, Durex Industries serves the Analytical Instrumentation, Medical Device, Semiconductor, Photovoltaic, Foodservice, Plastics, Packaging, Process, and general industrial markets.



For literature, applications, pricing or more details, please contact:

DUREX INDUSTRIES, 190 Detroit Street, Cary, IL 60013-2979

Phone: (847) 639-5600. Fax: (847) 639-2199

Web: www.durexindustries.com. E-mail: sales@durexindustries.com. Attention: Mark Burnham

More from Explosives, Armaments, and Weaponry