Molded Case Circuit Breakers can add 70 functions via accessories.
Press Release Summary: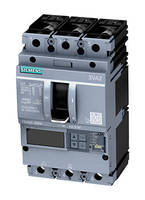 As integrated, variable system, 3VAÂ series meets all energy distribution requires for protecting cables, electrical loads, and industrial equipment against electrically induced damage and downtime. Starter protection variants are included with 3VA1 series, while 3VA2 series includes motor protection and starter protection variants. Protecting electric drives against short-circuits and overloads, 3VA2 series employs electronic trip unit that improves selective grading with downstream fuses.
---
Original Press Release:

3VA Molded Case Circuit Breakers with New Features and Variants



Erlangen – Siemens has added new versions and product features to its 3VA series of molded case circuit breakers (MCCB) from its Sentron portfolio. The 3VA1 series is now available for a higher rated current of up to 250 A and has been expanded to include starter protection variants. Siemens also now offers the 3VA2 series in motor protection and starter protection variants that protect the electric drives against short-circuits and overloads. The company also improved the selectivity characteristics of the devices. The 3VA series thus meets all energy distribution requires for protecting cables, electrical loads and industrial equipment against electrically induced damage and down times.



3VA molded case circuit breakers



3VA molded case circuit breakers with new features and variants



As part of updating the portfolio, Siemens developed a new electronic trip unit (ETU) with an optimized tripping characteristic that improves the selective grading of 3VA2 MCCB with downstream fuses. The rated current intervals between the molded case circuit breaker and the fuse can thus be selected based on need, so that molded case circuit breakers with low rated currents can also be used, thus saving money. Since the characteristic is steeper compared to common trigger characteristics, the protection devices switch off earlier in the event of an overload. The electrical load of the equipment is thus reduced in the event of an overload or short-circuits. The series' new ETU is also easier to parameterize, since the only value that needs to be set is the tripping current of the overload protection system.



As an integrated, variable system, the 3VA MCCB are designed to provide optimum support for every step, from planning and installation to ongoing operation of the electrical energy distribution system. This is also supported by the range of accessories, which is standard for all series and multiple sizes and includes more than 500 components. These accessories can be used to add around 70 functions to the circuit breakers in modules and thus adapt them to nearly all requirements. An online product configurator as well as comprehensive CAx data, such as 3D models and EPLAN macros, make the devices easier to engineer. With the aid of an integrated measuring function, data such as current, voltage, energy values and system states can also be recorded with the 3VA2 MCCB and transmitted to higher-level automation systems via common bus systems such as PROFIBUS and PROFINET. The molded case circuit breakers thus help increase system transparency and energy efficiency.



Depending on the size and series, 3VA MCCB are available in one-pole to four-pole versions and are designed for rated currents of 16 A to 630 A as well as rated voltages of up to 690 volts (VA) AC.



For further information on 3VA molded case circuit breakers, please seehttp://www.siemens.com/3VA.



Siemens AG (Berlin and Munich) is a global technology powerhouse that has stood for engineering excellence, innovation, quality, reliability and internationality for more than 165 years. The company is active in more than 200 countries, focusing on the areas of electrification, automation and digitalization. One of the world's largest producers of energy-efficient, resource-saving technologies, Siemens is No. 1 in offshore wind turbine construction, a leading supplier of combined cycle turbines for power generation, a major provider of power transmission solutions and a pioneer in infrastructure solutions as well as automation, drive and software solutions for industry. The company is also a leading provider of medical imaging equipment – such as computed tomography and magnetic resonance imaging systems – and a leader in laboratory diagnostics as well as clinical IT. In fiscal 2014, which ended on September 30, 2014, Siemens generated revenue from continuing operations of €71.9 billion and net income of €5.5 billion. At the end of September 2014, the company had around 357,000 employees worldwide. Further information is available on the Internet at www.siemens.com.



Contact



Mr. Heiko Jahr

Energy Management Division

Siemens AG

Freyeslebenstr. 1

91058  Erlangen

Germany

Tel: +49 (9131) 7295-75

heiko.jahr@siemens.com

More from Software