Mold Evacuation System eliminates trapped air and gas.
Press Release Summary: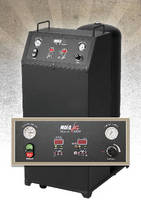 Intended for injection molding applications, Mold-Vac 20,000 helps eliminate part burns, voids, and short shots due to entrapped air and gas. System's blowback feature cleans and purges vented ejector and core pins after every cycle. Mold-Vac 20,000 is suitable for complex, high cavitation molds, typically characterized by fill times of less than 1 second.
---
Original Press Release:
Highest Performance Mold-Vac System Now Available
The Mold-Vac 20,000 Eliminates Trapped Air and Gas In Large, Complex, and High-Cavitation Molds BATAVIA, IL - CAE Services Corporation today announced commercial availability of the Mold-Vac 20,000, the highest performance model in its line of mold evacuation systems for injection molding. A number of models already are up and running in the field, with users reporting excellent results. Mold-Vac systems are designed to eliminate air and gas trapped in mold cavities, thus eliminating part burns, voids, and short shots due to entrapped air and gas. The Mold-Vac's patented blowback feature cleans and purges vented ejector and core pins after every cycle, and that does away with the downtime needed to periodically clean vents and pins. The result is increased productivity and a significant reduction in mold maintenance. The Mold-Vac 20,000 is designed for complex, high performance molds, typically characterized by fill times less than a second, long flow lengths, minimal venting, large cavity and shot size, or high cavitation. Mark Solberg, VP Sales notes that, "If the primary cause of reject rates (short shots, part burns) is directly related to gas & air entrapment, we would recommend our Mold-Vac as an alternative to increasing cycle time." On the Mold-Vac website (www.moldvac.com) and in the product brochure, Mold-Vac users describe how their reject rates have been reduced. Other models in the Mold-Vac line are the original Mold-Vac 4000 and the Mold-Vac 10,000. Their combined range allows process-specific solutions. Any molder who is adding cycle time to let air or gas escape, or has part burns from trapped air and gas can easily specify a Mold-Vac system that will solve the problems. The Mold-Vac Application Criteria worksheet on the company's website (www.moldvac.com) lets the molder send process information directly to the Mold-Vac specialists for project review. Mold-Vac is a product of CAE Services, an Expert Certified Moldflow Consulting Firm. For additional information please visit www.moldvac.com or call (630)761.9898
More from Laboratory and Research Supplies and Equipment