Mokon Provides New Line of Cooling Towers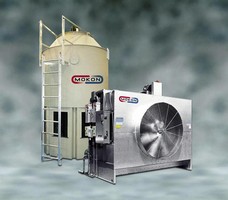 BUFFALO, N.Y. - Mokon announces a line of cooling towers to complement its existing circulating liquid temperature control systems, portable and central chillers. Two types of cooling towers are provided, constructed of either rugged galvanized steel or state-of-the-art HDPE plastic. Both designs are built to withstand nature's elements and are CTI certified. Available from 10 tons of cooling capacity up to 500 tons, all models offer energy-efficient all-season reliability, dependable service, and minimal maintenance.

All galvanized cooling towers feature an induced-draft, cross flow design that saves on fan and pump power. The galvanized steel structure and framework offer corrosion-proof protection. These towers feature an energy-saving gravity flow water distribution system and a unique nozzle design for precise distribution over the PVC film fill. Backed by a multi-year warranty, Mokon's galvanized towers are equipped with various connection options to meet specific installation needs and drift eliminators to limit the escape of water droplets.

The high-density polyethylene cooling towers include forced-draft (up to 100 tons) or induced-draft (100 tons and larger) designs. These towers feature a PVC water distribution system and fill material to facilitate even water distribution and high-efficiency cooling, with non-corrosive materials that extend component life. The seamless one-piece plastic shell provides a lightweight, yet durable tower that resists rust and corrosion. It incorporates a jointless leak-proof sump that does not require re-caulking or sealing, and an air moving system incorporates a fully enclosed motor to drive the fans or blower.

Mokon has been a leading manufacturer of high quality circulating liquid temperature control systems for over 50 years. Mokon continues to set new standards for durability, accuracy and efficiency for process temperature control applications in the following industries: plastics, die casting, food processing, chemical processing, pharmaceutical, rubber, printing and many more. The company's product line includes water and heat transfer fluid temperature control systems, portable and central chillers, pump tanks, cooling towers, maintenance products, and customized solutions to meet unique process requirements.

For more information, contact Mokon, Buffalo, NY 14207. Phone: 716-876-9951 Fax: 716-874-8048 or visit www.mokon.com.

More from Fluid & Gas Flow Equipment