Moisture/Solids/Volatile Content Analyzer offers fast drying times.
Press Release Summary: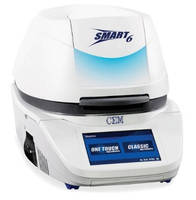 Able to analyze wet and dry samples with minimal sample drying times, SMART 6™ employs iPower™ technology with multi-frequency energy source. Touchscreen software, with complete statistical analysis, is included, and One Touch Methods™ simplify usability by offering optimized CEM methods along with iDri™ analysis technology. Latter can reduce test times to as little as 60 sec. IP65 compatibility is optional.
---
Original Press Release:

CEM Launches New Technology for Moisture/Solids Analysis



MATTHEWS, N.C. -- CEM Corporation, a leading supplier of process control solutions, is pleased to introduce the all new SMART 6(TM) Moisture/Solids Analyzer.  The SMART 6 features two major innovations compared to CEM's previous SMART 5 system: the ability to accurately analyze both wet and dry samples and a significant reduction in sample drying times. These benefits are possible through the development of iPower(TM) technology, which features a patented multi-frequency energy source for sample drying. As added benefits, the SMART 6 features a state of the art touchscreen software package with complete statistical analysis and optional IP65 compatibility.



"The world of moisture and solids analysis will never be the same again.  A disruptive new technology called iPower has changed the game forever," commented Michael J. Collins, President and CEO of CEM Corporation.  "We proudly introduce the new SMART 6, the first system to accurately measure the moisture, solids, or volatile content of any product faster than any other direct analyzer on the market."



The revolutionary iPower technology employs lower frequency energy to quickly remove free moisture and penetrate the sample for fast and efficient heating, while higher frequency energy helps create a uniform heating environment to fully remove bound moisture or non-polar solvents. As a result, iPower creates an analysis with unparalleled speed and precision.



One Touch Methods(TM) further simplify the user experience by offering a library of optimized CEM methods along with breakthrough new iDri(TM) technology. iDri is an advanced analysis that can further reduce test times with results in as few as 60 seconds, less than half of the previously possible test times using other direct analysis technologies.



"The SMART 6 will revolutionize analysis time for high moisture applications like dairy, meat, coatings & chemicals by reducing test times by half. It will also expand CEM's moisture/solids analysis capabilities to include dairy powders, snack foods, non-polar chemical solvents, low moisture plastics, and pharmaceutical materials. These applications have been difficult for previous microwave drying systems, but are now possible with development of iPower," Collins stated. "Additionally, the drying time is much faster than IR drying systems which have traditionally served these markets.  Never before has a moisture analyzer been able to offer so much, with the ability to have the fastest testing and most accurate data for any sample type."



CEM Corporation, a private company based in Matthews, North Carolina, is a leading provider of scientific solutions for critical laboratory applications. The Company has subsidiaries in the United Kingdom, Germany, Italy, France, and Japan, and a global network of distributors. CEM designs and manufactures systems for life sciences, analytical laboratories and processing plants worldwide. The Company's products are used in many industries including pharmaceutical, biotech, chemical and food processing, as well as academic research.



CONTACT: Devin Darrell, Process Control Product Manager, Devin.Darrell@cem.com, Tel. (704) 821-7015 ext 1332; Keller Barnhardt, Process Control Marketing Manager, Keller.Barnhardt@cem.com, Tel. (704) 821-7015 ext 1240

More from Non-Industrial Products