Moisture Meters come with backlit digital display.
Press Release Summary: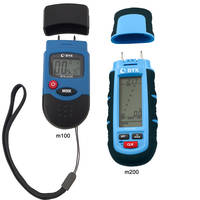 Moisture Meters are offered in m100 and m200 models and are used to determine correct drying and curing of raw materials. Units are compatible with hygroscopic building materials, such as wood, plaster, masonry, gypsum and concrete. Products are equipped with built-in electrode pins and come with auto power shutoff option. Suitable for furniture manufacturing, moisture meters are used for verification of moisture content and readiness for coating.
---
Original Press Release:
Introducing the New m100/m200 Moisture Meters
Pin Type Meters Verify Moisture Content
Moisture is one of the most frequent causes of coating failure as well as construction defects. Applying paint to a substrate that is too moist will frequently lead to failure of the film. Most substrates that absorb water have to be below a specific moisture level percentage before paint can be applied. A moisture meter is an ideal QC tool to determine whether a substrate is ready to be coated.
Moisture meters are particularly useful in all phases of furniture manufacturing. Proper use of a meter can ensure that the wood will maintain dimensional stability so that costly defects such as splitting, warping, and delamination will not occur. A higher level of unacceptable moisture tells the operator that additional drying of the lumber is needed before it is ready for production.
We offer two pin type penetration meters. These meters operate on the principle of electrical resistance; they use the substrate as an element in a circuit by driving two pins (electrodes) into material being tested. The water in the sample material is an excellent conductor and most dry substrates are effective insulators.
Features:
Verification of moisture content and readiness for coating
Determination of correct drying/curing of raw materials
Works with most hygroscopic building materials, such as wood, plaster, masonry, gypsum, and concrete
Backlit digital display for easy reading under poor lighting conditions
Built-in Electrode pins (replaceable)
Auto power shutoff
Air temperature measurement
Item Nos. MO-B1731, MO-B1732
The m100 Moisture Meter has a compact, easy to carry design with calibrations for wood and building materials. The m100 is an economically priced solution for building contractors, painters, and inspectors. The m200 Moisture Meter has a large, easy to read display. There are 8 material group calibrations for increased accuracy. The m200 has an interface connection for an optional Hammer Probe.
Contact:
Julia LaShure
Marketing Department
Sherri B. Thompson
Advt/Mktg Manager
Paul N. Gardner Company, Inc.
316 NE 1st Street,
Pompano Beach, FL 33060
Phone: (954) 946-9454
Email: jlashure@gardco.com
More from Agricultural & Farming Products