Moisture Balance tests snack food products.
Press Release Summary: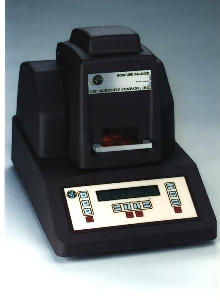 Digital Moisture Balance provides quality control moisture or solids tests. Operation is simple: operators loads sample up to 100 g, and presses 2 buttons. When test is finished, bell rings, and the results are in digital display. It has RS232 port for communicating with computer or printer. Rugged system can be placed in plant near production line.
---
Original Press Release:

CSC Digital Moisture Balance


The CSC Digital Moisture Balance is a reliable standard for fast, accurate quality control moisture or solids tests in a variety of snack food products! It is easy enough for anyone to use. Simply load in a sample (up to 100 grams), press two buttons and walk away. When the test is finished, a bell rings and the results are held in the digital display. Using the CSC Digital virtually eliminates operator error while improving the quality of your snack product.

The CSC Digital performs in the production area too. Its rugged design allows you to place it wherever you need it in your operation. Many companies have the CSC Digital next to their production line so they can get results quickly and make the necessary adjustment to their process.

The CSC Digital has an RS232 port so the results can go into a printer or into the computer. Users may need the documentation of test results to satisfy their customer requirements. Other companies that run 24 hours a day like the printout to keep track of testing on every shift.

For more information contact CSC Scientific, 800-458-2558.

CSC Scientific Company

Contact: WENDY LIUThe CSC Digital Moisture Balance is a reliable standard for fast, accurate quality control moisture or solids tests in a variety of snack food products! It is easy enough for anyone to use. Simply load in a sample (up to 100 grams), press two buttons and walk away. When the test is finished, a bell rings and the results are held in the digital display. Using the CSC Digital virtually eliminates operator error while improving the quality of your snack product.

The CSC Digital performs in the production area too. Its rugged design allows you to place it wherever you need it in your operation. Many companies have the CSC Digital next to their production line so they can get results quickly and make the necessary adjustment to their process.

The CSC Digital has an RS232 port so the results can go into a printer or into the computer. Users may need the documentation of test results to satisfy their customer requirements. Other companies that run 24 hours a day like the printout to keep track of testing on every shift.

For more information contact CSC Scientific, 800-458-2558.

CSC Scientific Company

Contact: Barbara J. Thorum

2810 Old Lee Highway, Fairfax, VA 22031

Phone: 800-458-2558 ext.108
Email: bthorum@cscscientific.com; Website: www.cscscientific.com


More from Cleaning Products & Equipment