Moisture Analyzers help manufacturers prevent food spoilage.
Press Release Summary: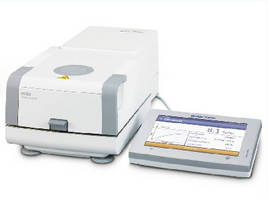 Combining advanced halogen technology with MonoBloc weighing cell, Excellence HS153 Moisture Analyzers achieve highly reproducible results. Hanging pan distances weighing cell from heat source to minimize negative thermal effects. Sample chamber is flat and sealed to enable cleaning in 30 seconds. To accelerate analysis, instruments feature OneClick™ GUI. Pass/Fail results are indicated by color-coded display, enhanced by real-time drying curves and integrated control charts.
---
Original Press Release:

New Moisture Analyzers Save Time for Food Manufacturers



Greifensee, Switzerland —  METTLER TOLEDO is pleased to announce the launch of its new high-speed Excellence HS153 Moisture Analyzer. These next-generation moisture analyzers are helping food manufacturers achieve highly precise moisture content analysis in less time than ever before through a combination of robust construction, easy operation and quick cleaning. Resulting productivity increases are helping manufacturers meet regulatory requirements and assure quality faster for true bottom-line enhancement.



For food manufacturers, speed-to-market pressure is high — but the kind of quality assurance that not only guarantees palatability but also ensures consumer safety is critical. So batch by batch, manufacturers must test a variety of attributes including moisture content to prevent spoilage and ensure products perform as expected to ensure repeat sales and brand stability. METTLER TOLEDO understands this critical combination and has ensured that the Excellence HS153 takes both precision and time-savings into account.



Whether the instrument is being used in a Lab or on the factory floor, the Excellence HS153 achieves highly reproducible results through advanced halogen technology combined with a high-performance MonoBloc weighing cell. The hanging pan distances the weighing cell from the heat source to reduce negative thermal effects. In addition, spills can no longer damage the weighing cell. The sample chamber is completely flat and sealed to facilitate cleaning in about 30 seconds for added time-savings.



To further promote speedy analysis and ease-of-use, a METTLER TOLEDO OneClickTM graphical user interface simplifies operation. Individual rights assignment means only the features required for a particular process are seen by the current user. Pass/Fail results are indicated by a color-coded display for instant analysis enhanced by real-time drying curves and integrated control charts.



The Excellence HS153 rounds out its easy-operation package with a USB flash drive that helps users quickly configure instruments for quick lab capital management and easy results-exporting.



For more on how METTLER TOLEDO's Excellence HS153 Halogen Moisture Analyzers can help food producers manage lab assets and analyze moisture content in less time, visit www.mt.com/hxhs.



Contact:

Dr. Helen Vogt

Product Manager SPG Moisture

METTLER TOLEDO AG, Laboratory & Weighing Technologies

+41 44 944 30 29

Helen.Vogt@mt.com



About METTLER TOLEDO

METTLER TOLEDO is a leading global manufacturer of precision instruments. The company is the world's largest manufacturer and marketer of weighing instruments for use in laboratory, industrial and food retailing applications. The company also holds top three market positions in several related analytical instruments and is a leading provider of automated chemistry systems used in drug and chemical compound discovery and development. In addition, the company is the world's largest manufacturer and marketer of metal detection systems used in production and packaging. Additional information about Rainin and METTLER TOLEDO can be found at www.mt.com .

More from Material Handling & Storage