Module System speeds drive programming.
Press Release Summary: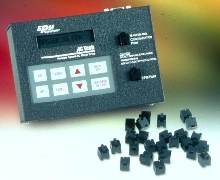 Electronic Programming Module (EPM) System consists of memory chip that plugs into front of SC Series drive and hand-held EPM Programmer. Programming changes can be made from drive's front keypad, PC, or by plugging drive's EPM into EPM Programmer. Drive profiles can be copied from EPM into Programmer memory. Using EPM Programmer's backlit 16-character LCD display, operator can label and store up to 30 files for later review, editing, or transfer.
---
Original Press Release:
Faster Drive Programming, More Flexibility from AC Tech's EPM System

UXBRIDGE, MA February 28, 2002. A new product concept from AC Technology Corporation, the two-part Electronic Programming Module System (EPM) can make programming AC Tech's SC Series drives faster and easier.

One major component of the system is the EPM, a tiny memory chip that plugs into the front of an SC drive. The other major component is the optional EPM Programmer, a hand-held battery-operated device that can store up to 30 drive programs and transfer them to an EPM in two seconds.

With the EPM Programmer, programming changes can be easily made in several ways: from the drive's front keypad; from a personal computer (via RS485 serial communications input and AC Tech's free TechLink software); or by plugging the drive's EPM into the EPM Programmer.

By using the EPM Programmer, the EPM can be removed from the drive, re-programmed, and re-inserted into the drive without using any special tools and without powering up the drive. Programming takes only seconds which is especially useful for mass programming.

In addition to speed, flexibility is another EPM plus. Drive profiles can be copied from an EPM into the EPM Programmer memory. Using the EPM Programmer's backlit 16-character LCD display, an operator can label and store up to 30 of these files for later review, editing, or transfer. The technology improves file management and makes it easy to reset drive defaults.

To create or modify drive programs, the EPM Programmer display guides an operator through the procedure using plain English instead of parameter codes. The LCD readout can be adjusted for contrast and a backlight can be turned on for use in darker areas.

To save battery life, the EPM Programmer can be powered by an AC
adapter readily available from most chain electronics stores.

As AC Tech adds features or software upgrades to its SC Series, the EPM Programmer will make it easy to incorporate these upgrades into older models. Most upgrades will be available on configuration EPMs for only a small shipping and handling charge. Configurations can be changed from TechLink software and the configuration files can be downloaded from AC Tech's web site: www.actechdrives.com.

Typical applications for SC Series drives are packaging machinery, mixers, fans, pumps, conveyors, food processing machinery, augers, vibrators, and centrifuges. With a high feature content and low price, the SC Series is a real alternative to electromechanical controls such as two-speed starters, Wye-delta, auto-transformer, or solid state softstarters.

For additional information on the EPM Programmer, the SC Series of sub-micro drives or any of AC Technology's other products, call 800/217-9100, 508/278-9100, FAX 508 278-7873, or email to info@actechdrives.com.

AC Technology Corporation 660 Douglas Street Uxbridge, MA 01569 800-217-9100 508-278-6781 FAX 508-278-7873
More from Communication Systems & Equipment