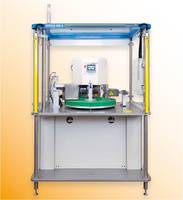 HIGHLIGHTS
Semi-automation up to 2 colors
Print image diameter max. 125 mm
For applications up to 1,200 parts/h
High-quality standard components
Individually configurable
Universally deployable
Maintenance-friendly
Space-saving
Short set-up times
Retrofittable
Short delivery times
Flexible, high-quality and modern
The little sister of the MODULE ONE M
The semi-automation MODULE ONE S is another product of the machine series MODULE ONE. Stability, functionality and a modern design were the primary focus for the development. Pad printing machines from three TAMPOPRINT machine series are available for the flexible configuration of the MODULE ONE S. In addition, this modular machine concept excels with high-quality equipment and highest user friendlyness.
The semi-automation MODULE ONE S is used for simple applications in pad printing. The part to be printed is manually inserted and removed.
The MODULE ONE S consists of a base frame, a rotary index table and a machine satellite. Pad printing machines from the following machine series are available for the satellite: HERMETIC, SEALED INK CUP E as well as V-DUO. Further stations can be equipped for example with a pre-treatment, an infrared drying or a cold air drying.
With a maximum 2-color print image with a diameter of up to 125 mm each, and with its flexibility as well as the short set-up times the MODULE ONE S is suitable for a multitude of applications in the areas of household appliances, toys, electronics or automotive industry.
Engineering and assembly are reduced through standardization of all auxiliary components. Solely the order-specific fixtures will be manufactured. Free choice between a standard and a vacuum-assisted jig, depending on process requirement.
MODULE ONE S
Stations                                                                                                              4
Number of colors max. (depending on pad printing machine type)                   2
Pad printing machines                        HERMETIC -Series SEALED INK CUP E -Series or V-DUO -Series
Components                                               Pre-treatment, parts detection, cold air drying, infrared drying,
Ink/doctoring cup sizes                   Ømm                                60, 90,130
Cliché sizes                                    mm                         140x70, 215 x100, 150x300
Print image size max.                     Ømm                                  125
Print part size max.                         mm                               140 x 140
Further product characteristics:
Seated or standing work position
Light curtain
Large glazed doors with protective device
Good accessibility
Easy handling of the printing units
Rotating operator panel (integrated in door)
Options:
Integration of a drawer in the satellite
Pre-treatment
Infrared drying
Vacuum-assisted jig
More from Sensors, Monitors & Transducers