Module monitors fieldbus installations.
Press Release Summary: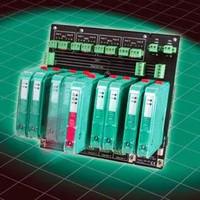 Suitable for FOUNDATION Fieldbus and Profibus installations, Advanced Diagnostic Module for FieldConnex® Power Hub generates network documentation for each segment and device and controls fieldbus by monitoring physical layer. Built-in oscilloscope can be set to trigger on numerous events, allowing maintenance personnel to pinpoint fault locations from control room utilizing Device Type Manager. During commissioning, ADM makes snapshot of communication quality for trending changes over time.
---
Original Press Release:

Pepperl+Fuchs Introduces the Advanced Diagnostics Module



Brings transparency and control to FOUNDATION Fieldbus and Profibus installations

TWINSBURG, OH - Pepperl+Fuchs introduces the Advanced Diagnostic Module (ADM) for their FieldConnex® Power Hub. The patent-pending ADM brings control to the fieldbus by monitoring the fieldbus physical layer, while creating transparency and easy evaluation of FOUNDATION Fieldbus and Profibus installations. The extremely detailed information is displayed in a simple-to-use Device Type Manager (DTM) in the control room. Engineering contractors, commissioning experts, plant operators and maintenance specialists gain visibility into the fieldbus physical layer for faster commissioning work, longer plant-uptime, true preventative maintenance and efficient troubleshooting.

The ADM eliminates repetitive tasks and automatically generates network documentation for each segment and device. The unique built-in oscilloscope can be set to trigger on numerous events. The ADM enables maintenance personnel to pinpoint fault locations quickly and efficiently from the control room. Comprehensive measurements are transmitted in real-time to the maintenance station and are easily handled through modern FDT/DTM technology and can be easily viewed by an OPC Software Client.

Wil Chin, Research Director for ARC Advisory Group, commented, "ADM is a timely solution that will resonate well with owners/operators of process plants in the increasingly complex process automation landscape. ARC expects ADM solutions to follow the robust growth of Plant Asset Management (PAM) Solutions that monitor the health and provide actionable recommendations for installation, operation, and maintenance of critical plant assets. The future of ADM and other intelligent solutions that take the uncertainty and mystery out of FOUNDATION Fieldbus remains bright, particularly as fieldbus solutions near its 'high growth' phase of the product lifecycle."

The ADM takes complexity out of FOUNDATION Fieldbus and Profibus installations. Consider some examples:

o During installation, personnel verifies field devices and manually checks proper device polarity, termination of the fieldbus trunk or searches for wiring errors. This is a very time labor-intensive task. Fieldbus validation time can be reduced by up to 50 % using the ADM to pinpoint errors using the DTM-based tool. The ADM's automatic documentation reduces repetitive and time intensive work.

o During commissioning, the ADM takes a snapshot of communication quality. It trends changes over time. Sudden water ingress, aggressive substances or small plant modifications all influence signal quality by adding additional resistance, changing insulation levels, EMI and other effects. When communication quality reaches critical levels, the ADM alarm triggers pro-active maintenance for increased plant-availability.

o Random and intermittent failures are particularly hard to pinpoint, and many hours of plant maintenance can be wasted in working to locate the problematic device. The built-in oscilloscope feature demonstrates the ADM's true capability and - more importantly - the most plant cost savings. This feature allows selection and combination of events for triggering. Engineers can now analyze specific events from the control room, aiding in a faster time to repair.

FOUNDATION Fieldbus in process automation is becoming increasingly popular due to its many benefits. FOUNDATION Fieldbus enables users to use fewer devices and up to 70% less cabling, among other benefits, resulting in significant capital expenditure savings. Operational expenditure savings are realized through factors improving plant output and uptime: higher accuracy and more data from field devices lead to fewer process upsets and targeted maintenance.

Pepperl+Fuchs is a world leader in the design, manufacture and application of high quality process automation products and services. Pepperl+Fuchs is the number one provider of hazardous area technology from intrinsic safety to purge and pressurization, on-line corrosion monitoring and Fieldbus.

For more information contact:
Pepperl+Fuchs,
1600 Enterprise Parkway,
Twinsburg, OH 44087;
(330) 486-0002;
fax: (330) 425-4607;
sales@us.pepperl-fuchs.com;
www.fieldconnex.info.

Tech Contact:
Kristen Barbour
330/486-0002
Kbarbour@us.pepperl-fuchs.com

More from Communication Systems & Equipment