Modular Mechanical Seal is designed for chemical pumps.
Press Release Summary: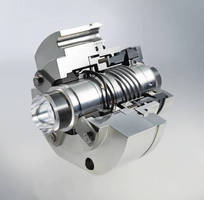 As seal system for standard chemical pumps with conically opened sealed space, HRC N series features rotating counter ring against stationary seal face. Double seal version, HRC3300N, employs stationary seat that does not require binding and atmosphere side to facilitate servicing. Omission of binding enables use of DiamondFace diamond coating, and operating temperature increases to +392°F. Seal faces are of silicon carbide, and stationary seats are of carbon materials or silicon carbide.
---
Original Press Release:

New Mechanical Seal in Modular Design for Standard Chemical Pumps



With the HRC N mechanical seal series, EagleBurgmann provides a seal system (version DIN 24960, Part C) for standard chemical pumps with conically opened sealed space that complies with the requirements for a standardized and application-related seal solution.



As a novelty within the HRC... N series, EagleBurgmann has now launched the optimized double seal HRC3300N on the market that has the same mounting dimensions and which uses some of the non-variable parts from the predecessor HRC3000N. A new stationary seat that does not require binding was used. This, and the improvements to the seal on the atmosphere side, makes the HRC3300N definitely more service friendly. Omitting the binding makes it possible to use the high-performance DiamondFace diamond coating, and the operating temperature increases to +200°C (+392°F).



Technical features of the HRC N series

Unlike a conventional mechanical seal, the HRC N has a rotating counter ring against a stationary seal face. The dead space-free configuration and the unrestricted flushing of the stationary seat enable optimal heat dissipation. The springs are protected from the product and have been configured to prevent the spring compartments from becoming clogged. If the seal is operated with quench, the spring compartments are flushed with clean quench fluid. Quench bores in the lid ensure the selective discharge of product leakage. The cartridge construction of the mechanical seal makes it easy to mount.



Due to the utilized materials, the HRC... N is very corrosion-resistant and exhibits a very high resistance to wear. The seal faces are manufactured of silicon carbide, the stationary seats alternatively of carbon materials or also of silicon carbide.



Operating limits:

p1 = 23 bar  (334 PSI)

t1 = -20°C...160°C (-4°F… +320°F) (200°C (+392°F) for HRC3300N)

vg = 0...20 m/s (66 ft/s)



EagleBurgmann - Rely on Excellence: EagleBurgmann is counted among the leading international companies for industrial sealing technology. The products are used wherever safety and reliability are of importance: in the sectors of oil & gas, refineries, chemicals, energy, food, paper, water, marine, aerospace or mining. Each day the ideas, solutions and motivation of our workforce of more than 6,000 employees ensure that customers around the world can rely on EagleBurgmann seals. The modular TotalSealCare seal service reinforces the corporate group's strong commitment to its customers and offers tailored solutions for any situation.

More from Electrical Equipment & Systems