Modular Light Crane System offers diverse configuration options.
Press Release Summary: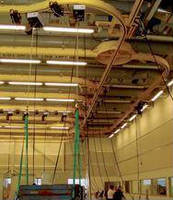 Available with single-/double-girder cranes and monorails, XM Light Crane System features 3-phase power feeding with flat cable and accommodates applications with lifting requirements up to 2 tons. Nylon wheels with ball bearings minimize operational effort, and hollow type profiles provide smooth and silent movement. Push/pull trolleys also facilitate load handling. Ranging from 20-40 ft, 4 profiles are available with deflection ratio of 1/500 as standard or optionally as 1/350.
---
Original Press Release:

XM Light Crane System from Konecranes Provides a Versatile Lifting Solution for Industrial Crane Use



XM Light Lifting Technologies Promote Efficiency, Space and Cost Savings, and Flexibility

SPRINGFIELD, OH -- Konecranes, a global leader in the manufacturing and servicing of overhead lifting equipment, has introduced XM Light Crane System, a versatile lifting solution designed to maximize overall productivity in workstations and on production lines with lifting needs up to two tons. As part of its global solution and service offering, Konecranes developed XM Light Crane System to meet or exceed the requirements of demanding industrial applications. The crane system is designed with modular components that provide efficiency, space and cost savings, and flexibility for any modern material handling need.

XM Light Crane System promotes efficiency with user-friendly features to help reduce downtime and operator fatigue. The modular design makes short installation time possible, thus increasing uptime of the crane. Standard three-phase power feeding with a flat cable simplifies installation, provides consistent, reliable service, and is easily adaptable to reconfigurations. XM Light Cranes require less effort to operate due to nylon wheels with ball bearings which minimize rolling resistance. The unique hollow type profiles are accurately dimensioned and lightweight, providing smooth and silent movement. Additionally, push/pull trolleys allow for effortless load handling. No on-site welding is required during operation due to the bolted joint profile connections.

XM Light Crane System provides high structural strength and accurate, cut-to-length profile dimensions that maximize available space and help to lower overall costs. High material strength and unique profile shapes enable long spans, leading to a larger efficient working area below the crane. XM Light Cranes also require fewer supporting structures due to outstanding suspension distances. Profiles are available with a deflection ratio of 1/500 as standard or optionally as 1/350, whereas many competitors' profiles offer 1/450 as the maximum deflection ratio. XM Light Cranes also feature a lightweight profile beam which reduces dead weight, thus minimizing stress on building structures that can lead to wear and tear and unnecessary repair costs. Additionally, the hollow profile type protects trolleys from dirt and dust, decreasing maintenance costs and increasing component lifetime. There are four profiles ranging from 20 to 40 feet with varying lifting capacities depending on the model.

XM Light Crane System is designed to provide maximum flexibility. XM Light Crane System can be easily expanded or modified with cut-to-length profiles and bridges to accommodate an updated production process. Single girder and double girder cranes and monorails are available, with lifting capacities ranging from 1/8 ton to 2 tons to meet a variety of lifting needs and operations. XM Light Crane System offers several bridge suspension options: single girder models with articulated bridge construction for light, easy load handling and crab motion; single or double girder models with rigid bridge construction for motorized movements; and single and double girder models with low headroom for efficient lifting height. The cranes can be wall-mounted or suspended from the ceiling or I-beams to create a larger work area beneath the crane. If suspension is not possible, the cranes can be installed as free-standing models that provide nearly unlimited runway length.

Other features of XM Light Crane System include: push trolleys for bridge and hoist; motorized hoist and/or bridge movement. Special order constructions include monorails with switches and turntables; enclosed conductor line, parallel to profile; internal conductor line for UKA40 and UKA40R profiles; surfaces treated with durable powder painting; and special surface treatments such as galvanization.

To find out more about XM Light Crane System from Konecranes, or for more material handling products and services, contact Konecranes, Inc., Region Americas, 4401 Gateway Boulevard, Springfield, OH 45502, toll free at 1.800.934.6976 or visit www.konecranesamericas.com.

Konecranes is a world-leading group of Lifting BusinessesTM, serving a broad range of customers, including manufacturing and process industries, shipyards, ports, and terminals. Konecranes provides productivity-enhancing lifting solutions as well as services for lifting equipment and machine tools of all makes. The Group has 9,800 employees, at more than 545 locations in 43 countries, including 100 service branches in North America.


More from Material Handling & Storage