Modular Jacks feature integrated magnetics.
Press Release Summary: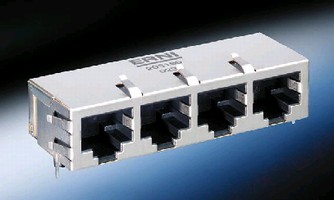 Operating from -40 to 85°C, Modular Jacks for 10/100 Ethernet are available in right-angle configurations and as vertical single-port variants. Single-port units have effective grounding shields with panel flanges on top and both sides. All meet IEC60603-7 performance requirements. Magnetics are available with resistors on unused pairs but without internal capacitor, with resistors on unused pairs and internal capacitor, or with full Bob Smith termination.
---
Original Press Release:

ERNI Offers Modular Jacks with Integrated Magnetics for Extended Operating Temperature



10/100 R/A Ganged and Single-port Versions for -40°C to 85°C

Adelberg, Germany - July 12, 2006 - Many industrial designs require an extended operating temperature range, and for such demanding applications ERNI provides Modular Jacks that operate from -40°C to 85°C. Modular Jack connectors have been used in the telecommunications and Ethernet industry for many years because of their simplicity and reliability. Whether integrated in a simple telephone system, or in a gigabit application, Modular Jacks are the standard for network connections.

Right angle and vertical single-port choices
These high temperature Modular Jacks, with integrated magnetics for 10/100 Ethernet, are available in right-angle configurations (e.g. ganged 1x2, 1x4 and single port); and as vertical single-port variants. Single-port Modular Jacks, with integrated magnetics, have effective grounding shields with panel flanges on top and on both sides. All of these jacks meet IEC60603-7 performance requirements.

Configuration choices
The 10/100 magnetics are available in three configurations: with resistors on unused pairs but without internal capacitor, with resistors on unused pairs and internal capacitor, or with full Bob Smith termination. The ERNI Modular Jack products, with integrated magnetics, are available for all Ethernet data rates.

These ModJacks are based on a patented design and meet FCC and IEEE 802.3 requirements for voltage isolation and performance. The products are offered in single port, multi-port ganged, vertical and tab-up configurations. ERNI also offers versions with different-colored LEDs.

Market-Driven Modular-Jack portfolio
ERNI offers Modular Jacks having many different versions. Requirements for increased data rates and space savings are driving increasing demand for these connectors with their integrated filter components.

Pricing
Pricing starts at $2.80 US in volume.

Company Background

About ERNI
ERNI is a leading global manufacturer and worldwide supplier of a broad line of interconnects for the telecommunications, data communications, computer, industrial and medical markets. ERNI has manufacturing operations in Europe as well as sales offices in over 40 countries. ERNI products are also marketed via a worldwide network of representatives and leading distributors. Further information is available at www.erni.com.

Company Contacts:

Company Contact -- North America:
ERNI Electronics, Inc.
3005 E. Boundary Terrace
Midlothian, VA 23112
Tel:+1 804-228-4100
Fax: +1 804-228-4099
uspr@erni.com

Company Contact -- Europe: ERNI Elektroapparate GmbH
Magnus Henzler
Seestrasse 9 73099 Adelberg
Germany
Tel.: +49 (0)7166 / 50-583
Fax: +49 (0)7166 / 50-103 Email: info@erni.de

Company Contact -- Asia/Pacific:
ERNI Asia Holding Pte Ltd Y H Koh
Blk 4008 Ang Mo Kio Avenue 10
#04-01/02 Techplace I
Singapore 569625

More from Construction Equipment and Supplies