Modular Hoist can be configured to customer requirements.
Press Release Summary: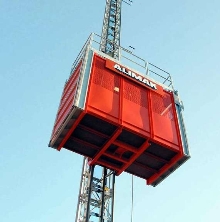 Offering fully modular vertical transport solution, Scando 650 is available in single- or twin-car configurations, with 2-motor DOL, 2-motor FC, or 3-motor FC. Units offer payloads of 1,500-3,200 kg/car, speeds up to 65 m/min, and maximum lifting height of 400 m. Various types of doors and gates are available.
---
Original Press Release:

Alimak Hek Introduces Fully Modular Scando 650


Bridgeport, CT- Alimak Hek, the world's leading manufacturer of Rack & Pinion driven equipment for vertical transportation, recently unveiled its Scando 650 for both construction and permanent access. The Scando 650 offers a large number of possible configurations with different doors and gates, speeds and payload capacities.

A fully modular vertical transport solution, the Alimak Scando 650 hoist offers a high level of flexibility, as it is available in various configurations offering different doors and gates, drive units (a two-motor DOL and two- or three-motor FC), speeds (up to 65 m/min) and payload capacities. This flexibility ensures that the Scando 650 can be configured to fit virtually any customer application. What's more, it can be done with relatively few modules and components, meaning that reconfiguring the unit is fast and simple.

The three available motors, which drive the system through a high efficiency gearbox, provide more hoist power while using as much as 40% less power than previous Scando models. Available in single- or twin-car configurations, the Scando 650 offers payloads of 1500 to 3200 kg/car and has a standard maximum lifting height of 400 meters, which can be increased upon request.

The Scando 650 has already received substantial industry attention, as Morrow Equipment, the leading tower-crane rental company in North America, has ordered 20 new Alimak construction hoists. The deal is believed to be one of the largest construction hoist orders in the US.

About Alimak Hek
For more than 55 years, Alimak Hek has been the world's leading provider of Rack & Pinion driven equipment for vertical transportation. Headquartered in Skellefteå, Sweden, Alimak Hek develops, manufactures and markets: passenger and materials hoists for the construction industry; permanently installed goods/passenger lifts for industrial environments; and a range of equipment for applications in underground mining, civil engineering and hydro-electric power generation. The Rack & Pinion assembly that is the heart of all Alimak lifts is unique in the industry, as it requires no machine room or surrounding shaft, does not need a wire, and has fewer moving components than traditional traction lifts.

Alimak equipment is utilized at 7 of the 10 highest buildings in the world. For more information about Alimak Hek and its complete line of vertical transportation solutions, contact Alimak Hek, Inc., (203) 367-7400 or send email inquiries to info@alimakamericas.com More information is available at www.alimak.com.

More from Thermal & Heating Equipment