Modular Guarding System bolts together in minutes.
Press Release Summary: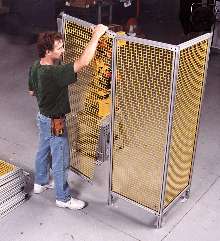 FastFrames pre-assembled panel and door modules are heavy-duty 1.5 x 1.5 in. anodized aluminum extrusions, with clear Lexan or wire mesh inserts. Variety of sizes and configurations are available. Applications include test fixtures, assembly stations, robot perimeter guards, work stations, tool cribs, and noise-reduction cells.
---
Original Press Release:

New Pre-Assembled Modular Guarding System Saves Time & Money


(Crystal Lake, IL): FRAME-WORLD, a leading manufacturer of aluminum extrusions and accessories, is pleased to announce the introduction of FastFrames, a new line of completely pre-assembled panel and door modules.

The FastFrames guarding system requires no engineering, CAD drawings, cutting or welding. Instead of assembling extrusions and hundreds of connectors, gussets, brackets, etc., FastFrames modules just bolt together in minutes.

Each FastFrames panel or door is made of heavy-duty 1.5" x 1.5" anodized aluminum extrusions, with clear Lexan or wire mesh inserts. They are available in a variety of sizes and configurations.

Al Mueller, President of FRAME-WORLD, stresses the huge time savings the revolutionary new FastFrames modules will provide. Entire machine guards, enclosures or robot perimeter guards can now be installed in minutes instead of many hours or days. (Example: a 4-sided, 14' x 16' x 6' perimeter guard with 2 doors can be assembled in 39 minutes using FastFrames; 9 to10 hours using traditional extrusions or 12 to14 hours welding a steel frame.)

FastFrames modules can be used for a wide range of applications, including:
Test fixtures
Assembly stations
Robot perimeter guards
Racks/shelving/storage
Machine vision guards
Work stations
Enclosures
Tool cribs
Noise-reduction cells
Nigh-security area fencing

For more information and other FastFrames modules, please contact FRAME-WORLD at 815-477-2599 or at www.frame-world.com.