Modular Fans are built to application requirements.
Press Release Summary: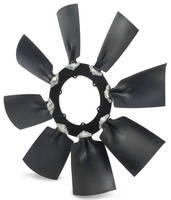 WindShift(TM) fans employ clamshell knuckles that clamp blades to 0.25 in. steel center disk at precise pitch angles. Customers specify blade configuration and pitch angle, center disk diameter, and rotation. Equally spaced blade configuration options are offered with 6, 7, 8, 9, 11, or 13 blades, and staggered blade configurations are available upon request. Pitch width ranges from 3.08-6.32 in. and fan diameters from 30-48 in. Rotation can be clockwise or counterclockwise.
---
Original Press Release:

Horton Introduces WindShift(TM) Modular Fans



WindShift fans provide flexibility and expedites testing and prototyping

ROSEVILLE, Minn.-Horton has introduced its first modular fans-WindShift Modular Fans for the off-highway, industrial and other specialty markets. This line of fans provides significant versatility in design and manufacturing for a myriad of applications and optimal fan drive cooling. WindShift Modular Fans have innovative clamshell knuckles that clamp the blades at precise pitch angles. This feature offers flexibility for customers' specifications and speeds the testing and prototyping stages.

"The blade design is computer optimized to provide efficient cooling," says Neal Shawaluk, director of sales for off-highway, industrial and specialty markets at Horton. "If testing shows that a different pitch angle or blade configuration provides more optimized cooling for a specific application, the knuckle clamp feature allows us to easily modify the fan design. This flexibility ensures that significantly less time is spent on testing, prototyping-and manufacturing, without sacrificing performance."

WindShift Modular Fans' clamshell knuckles clamp each blade to a 0.25-inch (6 millimeters) steel center disk. Customers specify blade configuration and pitch angle, center disk diameter and rotation. Equally spaced blade configuration options are offered with 6, 7, 8, 9, 11 or 13 blades. Staggered blade configurations, which help to reduce noise, are available upon request. Pitch width ranges from 3.08 inches (78 millimeters) to 6.32 inches (161 millimeters). Fan diameter ranges from 30 inches (762 millimeters) to 48 inches (1219 millimeters). Fans are available in clockwise and counterclockwise rotation. Standard pilots range from 1 inch (25 millimeters) to 5 inches (127 millimeters). Maximum tip speed is 18,000 feet per minute (91 meters per second).

WindShift Modular Fans are compatible with all Horton and competitive viscous fan drives and are initially available for first-fit applications.

For information about WindShift Modular Fans and airflow curve applications, visit www.hortonww.com/windshift, or call 1-888-813-9926.

With more than 55 years of industry experience, commitment to service, reliability and innovation, Horton is a premium worldwide provider of fan drives, fans and suspension products. Horton's comprehensive research and development processes are driven by a dedication to exceed industry requirements today and in the future. The company has manufacturing plants in the United States and Germany, with a licensed manufacturing facility in Australia and sales offices in the United States, Germany, Russia, South Korea, Mexico, Brazil and Australia. Horton products include VMaster® and Stratis(TM) Viscous Fan Drives, DM Advantage(TM) On/Off and Two-Speed Fan Drives, WindMaster® Fans, Electromagnetic On/Off Fan Drives, DriveMaster® Spring-Engaged Fan Drives, PolarForce(TM) Two-Speed Conversion Kits, Klondike Series® Replacement Fan Clutches for the Kysor K26RA as well as repair kits for Kysor's K26RA, K22RA and K22FA, Genuine Horton repair kits, remanufactured fan drives and Roller Bushing Suspension Products.

Horton, Inc.
2565 Walnut Street
Roseville, MN 55113
1-800-621-1320
+1 (651) 361-6400
info@hortonww.com
www.hortonww.com/windshift

More from Fluid & Gas Flow Equipment