Modular Connector brings IP69K protection to splash zones.
Press Release Summary: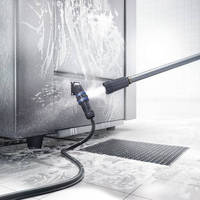 Han® F&B connector series brings modular, user-configurable connectivity with IP69K protection to splash zone (Zone 2) in food and beverage production. Made of non-toxic PP plastic, these FDA 21-approved circular connectors exhibit resistance to chemicals, heat, cold and Ecolab-certified cleaning agents. End-users can select from 25 Han® 3A contact inserts for transmitting power (up to 40 A), signal (up to 21 contacts), and data (up to 10 Gbps).
---
Original Press Release:

New HARTING's HAN® F+B Connector Brings IP69K Protection to Splash Zones



Elgin – HARTING's rugged new Han® F&B connector series brings modular, user-configurable connectivity with IP69K protection to the splash zone (Zone 2) in food and beverage production. These versatile, FDA 21-approved circular connectors are made of non-toxic, high performance PP plastic and offer excellent chemical, heat and cold resistance, and are resistant to Ecolab certified cleaning agents. Their hygienic design features large radii and smooth surfaces; so-called dirt pockets and the potential bacteria load on the connector don't have cracks or crevices in which to build. This also makes the Han® F&B exceedingly easy to clean and keep clean.



The Han® F+B brings all the advantages that plug & play, connector-based wiring offers over traditional hard-wiring of connections, like more efficient machine design, faster assembly with minimal risk of wiring errors, reduced maintenance downtime and expense – in short, a substantially lower total cost of ownership over the lifetime of that system. Users can configure their Han® F+B by selecting from 25 proven Han® 3A contact inserts for transmitting power (up to 40 A), signal (up to 21 contacts) and data (up to 10 Gbit/s). Additionally, there is an Han® F+B insert (up to 16A) especially designed for this series. With the introduction of Han® F+B, HARTING becomes the only connector manufacturer offering an RJ45 solution for splash zone connectivity. RJ45 connectivity makes possible Gigabit Ethernet for transmitting the huge volume of control and diagnostic data featured in today's most advanced processing and packaging equipment.



HARTING's Han® F+B is ideal for any system where daily washdowns or steam cleanings are performed, principally in zone 2 but also in some applications in zone 1, the food processing zone.



About HARTING

The HARTING Technology Group, family owned and based in Germany, employs more than 4,000 people globally with subsidiaries and branch offices in 40 countries. With production facilities in Europe, Asia and the United States, the HARTING portfolio of connectivity solutions focuses on multiple levels, from the machine to the device and into the communication infrastructure. The U.S. facility in Elgin, Illinois is one of three HARTING locations that manufactures the HIS product line (HARTING Integrated Solutions - backplanes) and custom cable assemblies. The company's core business is intelligent and high-performance connection technology. HARTING works in almost all industrial markets with a focus on requirements for robust, reliable connectivity solutions.



Media Contacts:

Christina Chatfield, Director of Marketing Communication

HARTING North America

1370 Bowes Road

Elgin, IL 60123, USA

+1 (847) 717-9217

christina.chatfield@HARTING.com

HARTING.com

More from Machinery & Machining Tools