Modular Bearing Systems target wind turbine gearboxes.
Press Release Summary: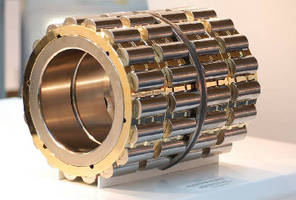 Developed to customer specifications, Modular Bearing Systems consist of cylindrical roller bearings that are fitted directly into planetary gear in wind turbine gearboxes. Bore of gear acts as outer raceway, so that bearings themselves do not have outer ring. Available in bore diameters of 160, 190, and 200 mm, bearings have inner race-guided one-piece brass cage, which contains inspection grooves for endoscopic condition assessment of inner race surface.
---
Original Press Release:

Bearing Systems from NKE for Planetary Wind Turbine Gearboxes



Steyr, Austria, - Austrian bearing specialist NKE introduces modular bearing systems for planetary gears in wind turbine gearboxes. The new bearing assemblies offer the advantages of a standardisation of the bearings used in this application, a reduced diversity of parts and simplified logistics.

Many wind turbines are equipped with single-or two-stage planetary gearboxes. Because the bearings of the planetary gears are among the highest-loaded in this specific application, integrated bearing assemblies have decisive advantages. NKE's bearing systems consist of cylindrical roller bearings that are fitted directly into the planetary gear. The bore of the gear acts as the outer raceway, so that the bearings themselves do not have an outer ring.

The bearing systems are developed to customer specifications. For gearboxes rated 1.5 MW, 2 MW and 2.5 MW NKE has already realised projects with such modular systems consisting of single-row cylindrical roller bearings without outer race. The bearings have bore diameters of 160, 190 and 200 mm, with versions up to 220 mm currently being developed. The choice of bearing depends on the available space - in particular when replacing existing bearings - as well as customer requirements. To further boost their load capacity, the cylindrical roller bearings feature an improved internal design that is even stronger than that of the standard types. These bearings are fitted with an inner race-guided, one-piece brass cage, which contains inspection grooves for endoscopic condition assessment of the inner race surface as standard. For higher loads and wider gears, the bearings can be assembled to sets of two, three or four bearings.

The modular concept has numerous advantages for the user: the designs of the planetary bearings can be standardised; the planetary gear design can be unified for the first and second gear stage and across various gearbox sizes; this reduces the required number of rolling bearing variants; the modular design simplifies the adaptation of bearing set characteristics to the requirements of each gear stage; the one-piece solid brass cage provides excellent rolling element guidance even during rapid acceleration; and the lubrication grooves provided as standard simplify lubrication of the planetary gear bearings.

Beside modular planetary gear bearings, NKE also supplies all other bearings for use in wind turbine gearboxes, main shafts and generators. These include full complement cylindrical roller bearings as well as cylindrical roller bearings with cage, taper roller bearings, spherical roller bearings and, four-point contact and deep groove ball bearings.

About NKE AUSTRIA GmbH:

NKE Austria GmbH is a bearing manufacturer headquartered in Steyr, Austria. The company with about 200 employees was founded in 1996 by a group of senior staff members of former company Steyr Wälzlager. NKE produces standard and special bearings for all industrial applications. NKE's core functions - engineering, product development, final processing of components, assembly, quality assurance, logistics, and sales and marketing - are centralised at its Steyr headquarters. The factory in Steyr is certified to ISO 9001:2008, ISO 14001:2004 and OHSAS 18001. Its wide range of standard bearings is available from stock or at short production lead-times. NKE also provides tailored products and solutions. In addition to product development and application engineering NKE provides a full range of technical, consulting, documentation and training services. NKE's products are distributed through 15 international representative offices and more than 240 distribution outlets in 60 countries.


More from Mechanical Power Transmission