AC Motor Controllers and Drives
Modular AC Drives feature 450 kW/700 hp rating.
Press Release Summary: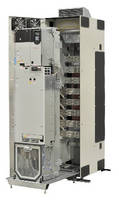 With design that facilitates access for installation and maintenance, Allen-Bradley PowerFlex 755 AC Drives are suited for motor control applications in variety of heavy industries. Advanced diagnostics indicate blown fuses and surge protectors, as well as monitor operating data on cooling fans, I/O relay cycles, and motor run times for preventive maintenance. Supplied with embedded Ethernet port, drives provide 5 option slots that enable them to be tailored to application.
---
Original Press Release:

Rockwell Automation Extends Power Range of its Allen-Bradley PowerFlex 755 AC Drives



New high-power drives provide users with expanded application flexibility, advanced diagnostics and easy-access design

MILWAUKEE, - In the first of several planned extensions, Rockwell Automation has expanded the power range of its Allen-Bradley PowerFlex 755 AC drives to 450 kW/700 Hp, providing users with increased application flexibility. Featuring advanced diagnostics and a convenient roll-out design, the PowerFlex 755 AC drive is well-suited for motor control applications in a variety of heavy industries, including oil and gas, tire and rubber, refining, material handling, metals and mining.

"Customer feedback about the desired attributes of a high-power drive gave us the information we needed to design our extended power range of PowerFlex 755 drives," said Steve Perreault, drives product manager, Rockwell Automation. "They told us they needed excellent reliability, ease of maintenance, and common control options to help reduce inventory and spare parts. This drive delivers on all accounts, providing users with increased installation and application flexibility, along with the advanced diagnostics needed to minimize downtime and protect critical investments."

A key feature of the PowerFlex 755 extended power range drive is its roll-out capability, which allows easy access to the drive for fast installation and maintenance. The drive's modular design helps simplify replacement of drive components, such as cooling fans, circuit boards and major subassemblies.
This modularity also allows the drive's converter and control pod to remain in the unit while the inverter is rolled out, so control wiring can remain connected. An additional advantage is the ability for the control pod in this drive to be mounted remotely for hassle-free access to low voltage control and diagnostics.

Advanced diagnostic capabilities include indication of blown fuses and blown surge protectors. Not only are these alarms reported to the main control to help ease troubleshooting, but they also provide essential protection inside the drive, helping to protect the customer's investment. Monitoring and tracking of operating data on cooling fans, I/O relay cycles and motor run times also provides valuable data for preventive maintenance, helping to reduce unplanned downtime.

The PowerFlex 755 drive comes equipped with an embedded Ethernet port and five option slots that allow users to tailor the drive to best suit their application. Options include I/O, feedback, safety, additional communications, and auxiliary control power input.

The PowerFlex 755 now supports Rockwell Automation Integrated Motion, allowing it to be configured and controlled using motion profiles and instruction sets in an Allen-Bradley ControlLogix controller with Rockwell Software RSLogix 5000 software. The ability to support variable frequency drives, motion drives, I/O, smart actuators and other EtherNet/IP-connected devices on a common network helps increase design flexibility, improve system performance and reduce engineering costs.

This power range extension expands the PowerFlex 755 AC drive offering from 0.75 kW (1 Hp) up to 450kW and 700Hp at 400/480 VAC input, providing robustness, ease of use, flexibility and performance in a single product family.

Rockwell Automation, Inc. (NYSE: ROK), the world's largest company dedicated to industrial automation and information, makes its customers more productive and the world more sustainable. Headquartered in Milwaukee, Wis., Rockwell Automation employs about 19,000 people serving customers in more than 80 countries.

For more information on the PowerFlex 755 AC drive, please call 800.227.6143 or visit http://www.ab.com/drives/powerflex/755.

Allen-Bradley, ControlLogix, Listen.Think.Solve., PowerFlex, Rockwell Software and RSLogix are trademarks of Rockwell Automation, Inc.

Trademarks not belonging to Rockwell Automation are property of their respective companies.

More from Controls & Controllers