Modular 5-Axis Profiler reduces aerospace parts machining time.
Press Release Summary: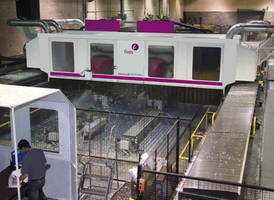 Used to machine structural aluminum parts, Cincinnati XP carries 1–5 A/B-axis spindle heads in traveling-gantry or -table design to allow completion of up to 5 parts per cycle. Rail-type design allows any practical X-axis length for carrying multiple gantries and creating multiple work zones. Rotary axis feedrates to 2,400 dpm are complemented by matched feedrates of 1,000 ipm on X/Y/Z axes. Spindle configurations include 3 spindles with 1 or 2 m center distance or 5 with 1 m center distance.
---
Original Press Release:

New 5-Axis Cincinnati Profiler Cuts Machining Time up to 80 Percent for Aerospace Aluminum Parts



HEBRON, Ky. – Fives new 5-axis, 5-spindle Cincinnati XP aerospace profiler lives up to its name, delivering "X-treme Productivity" in machining of structural aluminum parts. With doubled spindle speeds, greater horsepower and higher feedrates on all axes, the purpose-designed machine delivers 50 to 80 percent faster cycle times than prior models, while cutting multiple parts each cycle.



The XP profiler's modular design utilizes many features incorporated into Cincinnati's record-setting XT titanium profiler. It carries from one to five A/B-axis spindle heads in a traveling-gantry or traveling-table design, allowing it to complete up to five parts per cycle.



The rail-type design allows any practical X-axis length for carrying multiple gantries and creating multiple work zones. The new XP profiler is fully compatible with existing Cincinnati gantry profiler installations. It can use existing Cincinnati profiler beds or X-axis rails, or be installed on independent X-axis rails. X-axis length can be expanded anytime in the field with additional 12' (3.66 m) rail segments. Rail-type machines use dual servo planetary gearbox drives on both sides of the X axis. Y-axis drives can be linear-motor or rack-and-pinion driven.



The new high-speed rotary spindle heads are individually supported and independently driven in A/B axes for increased stiffness, accuracy and dynamic performance. Rotary axis feedrates have been increased to 2,400 dpm, more than 400 percent over the prior design, to support higher tool path velocities in 5-axis contouring. This is complemented with matched feedrates of 1000 ipm (25 mpm) on the X/Y/Z axes for consistently higher path velocities, regardless of the direction of cut. The simple, compact spindle head utilizes individual ballscrew drives for the A and B axes, while the 134-hp (100 kW), 18,000-rpm or 114-hp (85 kW) 20,000-rpm spindles outperform A/C type heads in 5-axis processing of plate parts. The ballscrew drives are completely field-serviceable, an advantage over most A/C head designs.



Multiple spindle configurations are available: three spindles with 1 m center distance, three spindles with 2 m center distance, and five spindles with 1 m center distance. There is also a choice of options in CNC controls, scales/encoders, toolchangers, perimeter guarding, spindle probes, video systems, tool-ID systems, spindle enclosures, mist collection systems and other features.



In first-article cutting tests on a machine recently delivered to a Tier One aerospace supplier, the customer machined an upper wing skin panel approximately 31' x 8.85' (9.5 x 2.7 m) with a min/max thickness of 0.062"/0.4" (1.57 mm/10.16 mm) and tolerance of +0.000"/-0.005" (+0.000/-0.127 mm). According to the customer, surface finish was excellent and the part measured within tolerance after checking 2,200 points with a CMM.



Fives Cincinnati has more than 650 profilers in the field, more than all other multi-spindle competitors combined, and its machines have cut parts for every commercial aircraft currently flying. For additional information, see:  www.fivesgroup.com



About Fives in Metal Cutting and Composites

Fives designs and supplies machine tool and complete manufacturing solutions in a broad range of industrial sectors.

With a strong foundation based upon renowned brands such as Cincinnati, Giddings & Lewis, Forest-Liné, Liné Machines and Rouchaud, Fives is recognized as the preeminent provider of outstanding manufacturing solutions which are at the heart of its customers' performance.



Five Metal Cutting | Composites dedicated teams – approximately 1200 people in over 15 countries – serve key industrial markets including aerospace, automotive and truck, heavy equipment, oil and gas, rail, wind, energy and general machining. With manufacturing and support operations strategically located worldwide, Fives and its Metal Cutting & Composites businesses offer comprehensive lines of equipment and technologies including automated assembly, laser welding and cutting, turning milling, composites processing and software with the associated support services (maintenance, spare parts, retrofit, overhauling and upgrading).



About Fives

Fives is an industrial engineering Group with a heritage of over 200 years of engineering excellence and expertise. Fives designs and supplies machines, process equipment and production lines for the world's largest industrial groups in various sectors such as aluminum, steel, glass, automotive, logistics, aerospace, cement and energy, in both developing and developed countries. In all these sectors, Fives designs and manufactures equipment and innovative solutions, which better anticipate and meet the needs of its customers in terms of performance, quality, safety and respect for the environment. In 2013, Fives achieved a turnover of 1.6 billion Euros and employed about 8,000 people in over thirty countries.



Press contact:

Vicki Rye

+1 513 534 4526

vicki.rye@fivesgroup.com



Agency:

Ray Kemble

+1 513 871 4042

rkemble@kembledrum.com

More from Software