Modem and RTU form spread sprectrum transceiver.
Press Release Summary: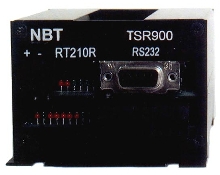 SR900 Wireless Modem and TSR900 Wireless RTU are a complete 900 MHz Frequency-Hopping, Spread Spectrum Industrial Transceiver used for multiple-access networking, point-to-point or point-to-multi-point data communications. TSR900 includes 5 digital inputs, 2 digital outputs, and two 12-bit analog inputs. Transceiver features full 1 watt RF output, programmable selection of channels, and supports up to 256 store and forward repeaters.
---
Original Press Release:
Model SR900 Wireless Modem and Model TSR900 Wireless RTU

NBT Inc., a manufacturer with a 12 year history of making quality SCADA and telemetry components and systems, is pleased to announce the release of a new family of wireless modems and RTU's (Remote Terminal Unit). Two models are represented- the Model SR900 Wireless Modem and the Model TSR900 Wireless RTU.

Description
The NBT wireless modems and RTU's are a complete 900 MHz Frequency-Hopping, Spread Spectrum Industrial Transceiver that can be used for multiple-access networking, point-to-point or point-to-multi-point data communications and supports up to 256 store and forward repeaters to extend the communication range. The NBT transceivers are based on state-of-the-art frequency-hopping spread spectrum technology for enhanced interference immunity, reliability and extended range. These devices feature:

* Point-to-point and point-to-multipoint operations
* High Immunity to Interference and Jamming
* Field Configurable as Master, Slave or Repeater
* Built-in Repeater Capabilities ("Store and Forward")
* Built-In RTU (TSR900) with 5 DI (digital inputs), 2 DO (digital outputs), 2 12-bit AI (analog inputs) communicating via industry-standard Modbus protocol
* Additional I/O can be optionally added
* Compact "footprint" ideal for panel mounting (3" x 4.8" x 2")
* Configuration software included Free!
* Spectrum analyzer and diagnostics included Free!
* Full 1 Watt RF output (max. legal output)
* Programmable selection of channels
* License-Free 900 MHz ISM band
* Configurable for complex networks using multiple repeaters


More from Test & Measurement