Modeling Software powers grinding machines.
Press Release Summary: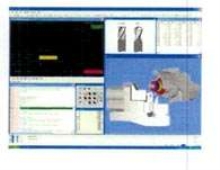 VirtualGrind® v3.0 consists of independent programs interacting to form complete 3D tool modeling software package. It includes 3DCalc 3D tool simulator, TaperCalc 2D simulator for tapered tools, BurCalc to design aluminum-cut surgical and dental burs, and FluteCalc 2D simulator for standard endmills, drills, and routers. ISOEasy facilitates creation of grinding operations by using drag-and-drop G and M codes, macro programming, and tool coordinate system.
---
Original Press Release:

The New VirtualGrind® Version 3.0 for the Rollomatic GrindSmart® Series of High-Precision Grinding Machines


The Rollomatic GrindSmart series of cutting tool grinders, 620XS and 6000XL, are both powered by the VirtualGrind® Software Suite. The 620XS has a grinding range of .002" to 5/8" with the highest available precision for cutting tools. The 6000XL is the first fully hydrostatic tool grinding machine, with a grinding range of 1 /8" to 1.25", with a 28 HP hydrostatic grinding spindle.

The latest version from Rollomatic, Version 3.0, consists of independent programs all interacting with VirtualGrind® to form a complete 3-D tool modeling software package.
o 3DCalc, the 3-D tool simulator-makes it easy to design and add features to cutting tools.
o ISOEasy-simplifies the creation of grinding operations by using drag-and-drop G&M codes and macro programming together with a Rollomatic-designed tool coordinate system.
o TaperCalc is the 2-D simulator for tapered tools, including flute and outside diameter relief.
o In BurCalc, you can design industrial aluminum-cut, surgical and dental burs.
o FluteCalc is the 2-D simulator for standard endmills, drills, and routers.

Together, these programs offer a high level of functionality, speed and versatility enabling greater flexibility in tool design.

New Features Include:
o The new Machine Simulator features the precise emulation of V-block, steady rest, pressure finger and collet type and allows you to view the entire grinding process while simultaneously checking for errors.
o Special G commands allow you to read machine specifications and calibrated values and implement them into your ISO programming.
o You can export to CAD systems to create a 2-D or 3-D tool drawing using a standard CAD program via the exchange format STEP (.stp). This can be used to create tool prints for manufacturing or customer approval.
o 3DViewer is the stand-alone program that allows you to view, rotate, zoom and section a 3-D model created in 3DCalc. This application can be installed on any PC or laptop without a security key (HASP).

Rollomatic SA of Switzerland is regarded as one of the leading manufacturers of high-precision tool grinding machines, serving toolmakers worldwide, offering products of superior performance and reliability for the metalworking, mold and die, surgical, dental, woodworking and PCB industries.

More from Mounting & Attaching Products