Model VMF-90A™ Screw Feeder features a built-in cam actuated hopper agitator.
Press Release Summary: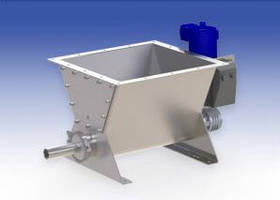 Model VMF-90A™ Volumetric Screw Feeder comes with four load cells and Model 1020-B digital scale controller with an accuracy of 1.0% of volume and 0.25% of weight. Product features a stainless steel frame and a hopper with capacity of 1.5 cu.ft. Feeders are available with 0.50, 0.75 or 1.5 in. diameter steel augers with bayonet style connection.
---
Original Press Release:
New Automatic Volumetric Screw Feeder Combines Functionality and Affordability
Scaletron Industries has introduced a new volumetric feeder. The new Model VMF-90A™ Volumetric Screw Feeder is designed for automated additive dosing in water and chemical treatment processes. The new feeder retains the functionality and user friendly features of the popular VMF-28 feeder, but has been re-engineered for cost-savings and versatility.
Ed Dougherty, Scaletron president, said the new VMF-90A feeder was developed in response to market demands for a highly functional yet affordable volumetric feeding device. He said that by changing many of the previous model's standard features into optional add-ons, Scaletron was able to offer a high level of functionality in the VMF-90A at an affordable selling price. In Dougherty's words, "We were able to offer the VMF-90A at an attractive price point by eliminating several features which had convenience value but didn't effect function. For example, the steel base framework and the bag holder – both standard on the VMF-28 – have been removed to reduce cost."
Dougherty further explained that besides enabling more attractive pricing, removing features like the mounting stand makes the VMF-90A feeder more flexible in terms of where it can be installed. He said, "The VMF-90A feeder is a compact unit that readily fits into confined workspaces where the previous model could not be used. So integrating the VMF-90A into existing feeder systems typically requires little to no redesigning, even when presented with limited installation space."
For feeding dry powdered or pelletized materials, the VMF-90A feeder achieves feed rates of up to 10.19 cu. ft. per hour. The Scaletron unit uses gravimetric feeding enhanced with a built-in mechanical, cam actuated hopper agitator. The agitator continually conditions the material being added to promote uniform material flow, a feature that is particularly useful when working with materials than tend to clump. If additional agitation is needed, Scaletron can add on an external vibrator.
Scaletron offers an optional "loss in weight" weighing system for applications where enhanced precision is required. This option comprises an integrated precision Scaletron scale utilizing four load cells and a Scaletron Model 1020-B digital scale controller. Scale accuracy is to within 1.0% of volume and 0.25% of weight. With this option, weight loss or gain is monitored in real time. Changes to an additive's mass due to heat, moisture and other environmental variables, is detected and accounted for when metering and dispensing begins. Precise dosage amounts are then automatically adjusted to improve the accuracy of the feeding process.
With a corrosion resistant stainless steel frame, the VMF-90A feeder is rugged and durable. The stainless steel hopper has a capacity of 1.5 cubic feet. A stainless steel auger (0.50″, 0.75″ or 1.5″ diameter) with bayonet style connection enhances a steady feed rate. The VMF-90A feeder is water and dust proof and controls are housed in a NEMA 4X, UL-approved enclosure. The 90 VDC motor is right-angle geared and wash down ready.
The VMF-90A feeder is readily adaptable to small treatment systems being loaded from bags, or to large water treatment plants that load from super sacks or silos. The new Scaletron unit is designed for fast, easy attachment of accessories using Scaletron's quick-clamp design. The VMF-90A is fully compatible with Scaletron's line of digital indicators and controllers. Among the numerous modular add-ons and accessories are FBIC bulk bag unloaders, 316 stainless steel or dry powder epoxy coated carbon steel construction, 316 stainless steel augers and overwind helix augers, SCADA programmable and HMI PLC touch screen motor controllers, dust collectors, feeder stands and more.
Scaletron volumetric screw feeders are designed to accurately dispense alum, carbon, lime, polymers, potassium, soda ash and other dry powders or pelletized materials into secondary processes.
About Scaletron Industries, Ltd.
Scaletron Industries, Ltd. is the industry leader in corrosion resistant scales for use in the harsh environments of the municipal drinking water, waste water treatment and industrial process water treatment industries. Scaletron offers a full line of mechanical and electronic scales including cylinder, ton cylinder, drum, tank, platform, and spill containment scales. Scales are designed for weighing corrosive chemicals including powders, liquids, and liquefied gases. Scaletron offers a full, 5 year warranty on all products.
For more information including features, literature, drawings, OEM manuals, and bid specifications please visit www.scaletronscales.com/2308cs.html or call Scaletron Industries at 215-766-2670.
Contact This Company Download Spec Sheet
More from Test & Measurement