Model 7200-6 Multiplace Chamber has 6 ATA capability.
Press Release Summary: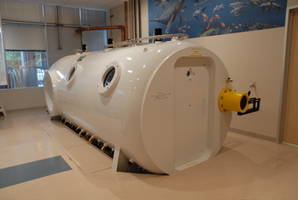 Equipped with a double lock system, the model 7200-6 multiplace chamber has 6 ATA capability.  The rectangular door allows for wheelchair and gurney access. Other features include an expansion flange, medical grade air compressors, and a fire suppression system.
---
Original Press Release:
TEKNA Manufacturing LLC Announces Model 7200 Multiplace Chamber
TEKNA Manufacturing LLC announce the delivery and installation of a revolutionary new chamber at the William T. Fife Memorial Hyperbaric Center in College Station, Texas.
The new system is our Model 7200-6 ATA Double Lock System with a rectangular door going directly into the Main Lock.
The unit is ASME Section VIII, Division One, National Board, NFPA compliant and is FDA 510(k) cleared to market.
6 ATA capability allows for treatment of DCI, DCS, and VGE's. The rectangular door allows for wheelchair or gurney access.
The chamber is custom designed to have a Medical Service Lock, and has a "three door Entry Lock" which allows the Entry Lock to be pressurized to a higher pressure than the Main Lock.
The Expansion Flange allows for another vessel to be bolted in place with no further hydrostatic testing.
The system includes Two Medical Grade Air Compressors, and a state-of-the-art Fire Suppression System.
More from Sensors, Monitors & Transducers