Modbus Gateways integrate serial and Ethernet devices.
Press Release Summary: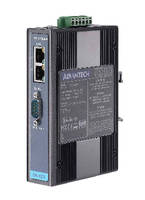 Packaged in DIN-rail mount chassis, Models EKI-1221 and EKI-1222 feature one or two RS-232/422/485 serial ports, with redundant 10/100 Mbps Ethernet connections for transparently connecting Modbus ASCII/RTU and Modbus/TCP devices and equipment. Units support Ethernet master to serial slave, serial slave to Ethernet master, and concurrent operation of both modes. Gateways include dual 12-48 Vdc power inputs, power line surge protection of 3,000 Vdc, and 4,000 Vdc Ethernet ESD protection.
---
Original Press Release:

Advantech Launches New Generation of Modbus Gateways



(Cincinnati, Ohio - 12/17/08) - The Industrial Automation Group of Advantech introduces the EKI-1220 series Modbus Gateways, for quick and easy integration of Modbus serial devices with Industrial Ethernet networks. Available in two configurations, the EKI-1221 and EKI-1222 feature one or two RS-232/422/485 serial ports, with redundant 10/100 Mbps Ethernet connections, for transparently connecting Modbus ASCII/RTU and Modbus/TCP devices and equipment.

Transparent Operation

The EKI-1220 series gateways support a wide range of configurations between serial and Ethernet devices, including: Ethernet master to serial slave, serial slave to Ethernet master, and concurrent operation of both modes. More importantly, they are designed for transparent operation, which means no changes are required to installed devices, equipment or software systems.

Advanced Functionality and Security

To route requests to the appropriate serial port on multi-port models, a user-defined table associates Ethernet host IP addresses to serial slave IDs, allowing access through a single IP port, for easier systems integration and compatibility with existing Modbus/TCP networks. A connection status monitor is included, that displays which IP hosts are connected to each serial port, that is very helpful during setup and commissioning or to troubleshooting communications issues. For enhanced security, access can be restricted to specific IP network hosts.

"Building upon our previous generation Modbus Gateway, and numerous enhancements suggested by our customers, we're excited about the exceptional performance and capabilities of these new models" said Paul Wacker, Product Manager for Industrial Communications at Advantech. "The EKI-1221 and EKI-1222 give industrial equipment OEMs and end-users a transparent and cost-effective means to connect serial Modbus ASCII/RTU devices and equipment with Ethernet using Modbus/TCP."

Redundant Ethernet for High Availability

Given the zero unplanned downtime requirements for industrial applications, these Modbus gateways feature dual 10/100 Mbps Ethernet connections, to ensure communications in the event of a network problem. With one physical connection assigned as primary and the other as backup, communications can continue on the backup in the event of a problem with the primary, ensuring uninterrupted communications and peace-of-mind for plant maintenance and operations staff.

Ruggedized for Demanding Industrial Applications

Like the other EKI series Industrial Ethernet products, the EKI-1221 and EKI-1222 are packaged in a compact and thin metal DIN-rail mount chassis. Ruggedized for demanding industrial applications, these units include dual 12 to 48 VDC power inputs, power line surge (EFT) protection of 3,000 VDC, and 4,000 VDC Ethernet ESD protection to ensure maximum system uptime and uninterrupted communications.

"ARC's market research indicates that MODBUS remains the most common protocol for industrial Ethernet networks" said Harry Forbes, an ARC analyst. "Advantech's new gateway products for MODBUS and MODBUS TCP illustrate the continued need for solid products that serve these industrial applications"

To purchase or if you have any questions, please contact Advantech at 1-800-205-7940 or your regional Advantech authorized distributor for more information.

Advantech Corporation, Industrial Automation Group - Founded in 1983, the Industrial Automation Group of Advantech Corporation is a pioneer in eAutomation technology; combining connectivity, flexibility and ruggedness with today's most reliable PC-based automation technologies. Product offerings include: Open HMI platforms, Industrial Ethernet, Automation Controllers, Automation Software, Embedded Automation Computers, Distributed I/O Modules, Plug-in I/O, and Industrial Communication solutions for a wide array of industries. With more than 20 years experience in providing a full range of products to different vertical markets, the Industrial Automation Group is proving to be a globally leading Automation Product and Services provider. US operations for the Industrial Automation Group are based in Cincinnati, OH (800-205-7940). Advantech Corporation, Industrial Automation Group, 1320 Kemper Meadow Drive, Suite 500, Cincinnati, OH 45240. Website: www.advantech.com/ea. Email: eAinfo@advantech.com.

Media website for more info, datasheets, etc.: http://www.advantech-eautomation.com/media

Chuck Harrell

PR/Promotion Manager

Advantech, Industrial Automation Group

513-742-8895 ext 333

More from Agricultural & Farming Products