Mobile Transloader moves liquids between modes of transportation.
Press Release Summary: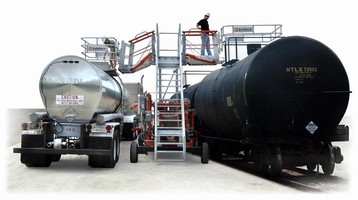 Featuring 4 wheeled towable trailer, Mobile Transloading Unit is designed for safe custody transfer of wide variety of liquids. Unit is suited for truck as well as railcar transloading, with common transfer equipment located on trailer beneath transloading racks. Truck side of unit features grounding protection, overfill monitoring, and metering of custody transfer, while railcar side allows options for unloading, as well as safe access to hatch area of railcar.
---
Original Press Release:
SafeRack Introduces Mobile Transloading Unit
Unit promises increased efficiency and safety in the liquid-handling process SUMTER, SC, September 16, 2008-As the use of transloading-defined as the process of transferring a shipment from one mode of transportation to another-continues to increase, shippers who move liquid goods ranging from industrial chemicals to the increasingly popular renewable fuels have been looking for ways to quicken the transloading process while minimizing the risk that is inherent in liquid-handling. With this in mind, SafeRack, LLC, the leading provider of stronger, safer and easier-to-handle truck and railcar loading-rack and fall-protection equipment for the petroleum, biofuel, specialized chemical, food/pharmaceutical, cement and other industries, has developed its Mobile Transloading Unit. Designed for fast, safe custody transfer of a wide variety of liquids, the Mobile Transloading Unit features a four-wheeled towable trailer for ease of operation. The unit was designed to incorporate two distinct sides, one created for use in truck transloading and the other for use in railcar transloading, with common transfer equipment-including hoses, filters, strainers, air eliminators, valves, sensors, overfill-prevention equipment, pumps, meters and emergency shut-off-located on the trailer beneath the transloading racks. When transloading needs to occur, the platform is wheeled between the truck and railcar. The truck side features grounding protection, overfill monitoring and metering of the custody transfer. The railcar aside allows options for unloading, as well as safe access to the hatch area of the railcar. For an added level of operator safety while on top of the trucks and railcars, fall-protection safety cages are available on the gangways. However, a standard Mobile Transloading Unit is available without access platforms, gangways or fall-protection safety cages at a lower price. The transloading can be accomplished through easy-to-use loading arms or through hose-loading, while the unit's grounding system integrates with the transloading process to only allow transfer to occur with a positive ground. "Transloading is proving to be one of the more popular, and safest, forms of liquid custody transfer and we feel that our Mobile Transloading Unit will make this process even safer and more efficient," explained Fred Harmon, Cofounder of SafeRack, LLC. "It has been designed to meet the highest quality standards that are inherent in all of our loading-rack and fall-protection products." For more information on SafeRack's Mobile Transloading Unit, or any of its solutions, please contact
Tom Semiklose,
Sales Manager,
at (866) 761-7225
or tsemiklose@saferack.com,
or visit www.SafeRack.com. SafeRack, LLC, is committed to providing stronger, safer and easier-to-handle truck and railcar loading-rack and fall-protection equipment. Headquartered in Sumter, SC, SafeRack has more than 200 years of combined experience in offering the food/pharmaceutical, specialized chemical, pulp and paper, building products, plastics, cement, mining, petroleum, biodiesel and ethanol industries high-quality equipment that has been customized for each customer's unique loading applications. For more information, please visit www.saferack.com. SafeRack, LLC 730 Electric Drive Sumter, SC 29153 (866) 761-7225 www.saferack.com
More from Food Processing & Preparation