Mobile Sanitation Cart provides complete area disinfection.
Press Release Summary: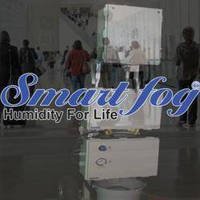 Available in 1.5 and 3 gph sizes, No Escape Mobile Disinfection and Sanitation Cart (NEM) eliminates all traces of viruses and bacteria. Fully automated model ES100MA (60 lb) and manually operated model ES100MM (40 lb) work with any water dissolving material or chemical. Both offer complete control over moistness of treatment – configurable from completely non-wetting to thin layer – with 100% effectiveness. Standard configuration can sanitize and disinfect indoor spaces up to 10,000 ft³.
---
Original Press Release:

No Escape Mobile Disinfection Cart for Complete Area Disinfection and Sanitation, Place is Clear with No Escape



Smart Fog, Inc. announced this week the launch of No Escape Mobile Disinfection and Sanitation Cart - the NEM – 100 percent effective disinfection and sanitation solution. The NEM, is a stand-alone disinfection and sanitation distribution equipment featuring complete control over the moistness of the treatment. From completely non-wetting treatment to a thin layer, Smart NEM is highly configurable.



"The NEM eliminates all traces of viruses and bacteria with a simple treatment without the need of any human presence.," explains Ido Goldstein, director at Smart Fog.



Smart Fog new stand-alone mobile disinfection unit, is able to easily sanitize and disinfect indoor spaces up to 10,000 cubic feet using the standard configuration. Smart Fog offers two system sizes, 1.5 GPH and 3 GPH. Ranging from produce packing houses to hospitals, classrooms, airplanes, truck trailers and more, there are numerous applications that this system can be used at. With easy to navigate mobile cart, the system can disinfect anywhere from 10 sq ft to 2000 sq ft in matter of minutes.



The unique technology offered by Smart Fog, enables the disinfecting material to travel evenly throughout the space. Additionally, the non-wetting fog is intelligently monitored by Smart Fog proprietary algorithms and does not create any wet spots.



The system is engineered to be compact, lightweight and extremely durable. Full featured fully automated model ES100MA weights 60lb and the manually operated model ES100MM unit weighs 40lb. The units are compatible with any water dissolving material or chemical.



The unit is ideal for food safety and transportation, initiating treatment before closing containers, trucks, airplanes can dramatically increase shield life, eliminate the risk of mold growth, contamination from prior cargo and maintain a clean and sterile environment.



Prerelease extensive field testing has demonstrated 100% success in complementing treatments in restaurants, classrooms and hospitals. Restaurant disinfection treatments are conducted at night automatically in order to disinfect all surfaces without leaving any wet spots or residue.



About Smart Fog



Smart Fog Inc. is the recognized world leader in the industrial and commercial humidification systems, food safety, disinfection and dust suppression systems. For over 30 years, Smart Fog has provided superior service to customers world-wide, and the corporate commitment to excellence has earned the reputation as the best in the industry. All Smart Fog commercial humidifiers and disinfection equipment are manufactured in the U.S.A. using the highest grade raw materials.



For more information, visit: www.smartfog.com .

More from Cleaning Products & Equipment