Mobile Radioisotope Detector is light weight and portable.
Press Release Summary: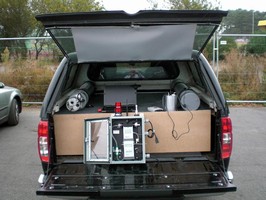 Utilizing Sandia National Laboratory fit2db spectroscopic identification technology, Matrix ARIS Mobile Detection System offers real-time results for radiation survey, patrol, and isotope identification. It consists of gamma and neutron probes, ARIS radioisotope identification system, and rugged laptop. Lightweight design allows for easy mounting into any standard SUV, boat, or other vehicle, as well as portable packaging such as large suitcase.
---
Original Press Release:

Thermo Fisher Scientific Brings New Level of Efficiency and Accuracy to Mobile Radiation Survey and Detection



Matrix ARIS offers real-time results for radiation survey, patrol and isotope identification

Oakwood Village, Ohio, July 16, 2008 - Thermo Fisher Scientific Inc., the world leader in serving science, today announced the Thermo Scientific Matrix ARIS Mobile Detection System, an advanced integrated solution for radiation survey and mobile security applications. Its light weight design allows for easy mounting into a standard SUV, boat or other vehicle, as well as portable packaging such as a large suitcase. Utilizing Sandia National Laboratory fit2db spectroscopic identification technology, the system leverages the power of Thermo Scientific's patented Natural Background Rejection (NBR) technology and the proprietary ARIS Advanced Radioisotope Identification System with the Thermo Scientific ViewPoint(TM) Enterprise real-time monitoring and analysis software.

The Matrix ARIS system consists of three primary component groups: gamma and neutron probes, the ARIS radioisotope identification system, and a rugged laptop running the National Lab tested ViewPoint Enterprise Survey Client that makes it possible to easily survey an area and determine the background radiation contour. These background profiles or area contours can be established for control areas in advance of public events, reducing false alarms and increasing detection capability. The survey data, correlated with GPS mapping coordinates, are saved for baseline comparison with gamma and neutron readings taken at specific locations during periodic patrols. When radiation readings are above user-selected levels, the system automatically triggers an alarm to notify the operator.

When the alarm occurs, the operator can initiate the ARIS system to automatically identify isotopes tagged with links to the stored isotope information profiles. This system integration capability enhances the field operator's ability to identify threats and take appropriate action, all without requiring any gamma spectroscopy expertise. In addition, the Matrix ARIS Mobile can be integrated with the Thermo Scientific RadReachBack(TM) communications system to provide a continuous, real-time data communications link with a command center, expert analysis facility or secondary-level response personnel.

"The Matrix ARIS system offers unparalleled flexibility and advanced, integrated technology to produce a fast, mobile and intelligent system," said Johnny Long, global product line manager for Integrated Solutions. "Not only are errors reduced by freeing operators from constant monitoring or needing to interpret data during alarm events, but the Thermo Scientific system actually increases incident response accuracy in advance of public events, using already established levels of alarm conditions at control locations. Coupled with the precise, real-time monitoring capability of the ViewPoint Enterprise platform, the Matrix ARIS mobile detection system means that 'nothing is out of reach.'"

For more information about the Thermo Scientific Matrix ARIS Mobile Detection System, please visit http://www.thermo.com/solutions.

About Thermo Fisher Scientific
Thermo Fisher Scientific Inc. is the world leader in serving science, enabling our customers to make the world healthier, cleaner and safer. With annual revenues of $10 billion, we have more than 30,000 employees and serve over 350,000 customers within pharmaceutical and biotech companies, hospitals and clinical diagnostic labs, universities, research institutions and government agencies, as well as environmental and industrial process control settings. Serving customers through two premier brands, Thermo Scientific and Fisher Scientific, we help solve analytical challenges from routine testing to complex research and discovery. Thermo Scientific offers customers a complete range of high-end analytical instruments as well as laboratory equipment, software, services, consumables and reagents to enable integrated laboratory workflow solutions. Fisher Scientific provides a complete portfolio of laboratory equipment, chemicals, supplies and services used in healthcare, scientific research, safety and education. Together, we offer the most convenient purchasing options to customers and continuously advance our technologies to accelerate the pace of scientific discovery, enhance value for customers and fuel growth for shareholders and employees alike. Visit www.thermofisher.com.

www.thermo.com/rmp

More from Test & Measurement