Mobile Monitoring App for Nurses fosters timely intervention.
Press Release Summary: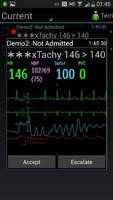 Helping meet workflow demands of nurses and caregivers within hospital, Philips CareEvent connects to PIIC iX central patient monitoring system, which transmits near real-time physiological data from patient's bedside monitor. Through this mobile application, caregivers can receive actionable alerts from patient's bedside monitor as well as view snapshot of 4 numerics and 4 waveforms (including dynamic ECGs for up to 10 sec). View of recent alert history enhances patient condition context.
---
Original Press Release:

Philips Introduces Mobile Application to Keep Nurses Connected with On-The-Go Monitoring



Mobile solution for alarm management provides actionable data for timely intervention



ANDOVER, Mass. – Royal Philips (NYSE: PHG, AEX: PHIA) today announced the latest addition to its portfolio of advanced patient monitoring solutions. The Philips CareEvent mobile application turns a smartphone into a valuable clinical tool to meet the workflow demands for nurses and caregivers who are constantly on the go within the hospital.  Launching at the HIMSS15 Conference and Exhibition in Chicago this week, the mobile application allows caregivers to view patient alarms from their smart phones, while also being able to view a near real-time snapshot of a patient's vital signs.



"Caregivers are constantly on the move within the hospital, and often have to make on-the-spot decisions with limited patient information," said Carla Kriwet, CEO, Patient Care and Monitoring Solutions, Philips. "Additionally, due to an aging society, patients tend to have more complex medical conditions. We're collaborating with caregivers to enhance patient care by developing technologies that allows clinician to easily access relevant and actionable data where and when they need it most."



Designed to provide another tool in the suite of products that help inform caregivers of changes in the health status of patients, Philips CareEvent joins the IntelliVue Mobile Caregiver application for physicians, and the central monitoring station, IntelliVue Information Center iX (PIIC iX). Philips' patient monitoring solutions, like the IntelliVue MX800 bedside patient monitor enable vital signs, such as heart rate, body temperature and blood pressure, to be closely monitored. Philips is the global market leader in the field of patient monitoring, with more than 275 million patients a year being monitored using Philips patient monitoring equipment.



Delivering mobile insights to caregivers

Philips CareEvent is connected to PIIC iX, a central patient monitoring system that transmits near real-time physiological data, such as dynamic ECG waveforms, numeric trends, STEMI Limit Maps and labs, from a patient's bedside monitor. The PIIC iX web solution and Philips Mobile Caregiver provide data from the PIIC iXto the caregiver on their laptops, tablets, smartphones, and other mobile devices.



The Philips CareEvent system allows caregivers to receive actionable alerts from the patient's bedside monitor. It is also the first application in the market to show a snapshot of four numerics and four waveforms, including dynamic ECGs for up to 10 seconds.



The application provides additional context into a patient's condition by sharing their recent alert history. This gives clinicians deeper understanding of a the validity and priority of the alarm, allowing them to make a more informed decision to respond to the alert, escalate it to a colleague, or rule it non-actionable.



For more information on Philips' presence at HIMSS, including the full suite of Philips interoperable software, solutions and services, stop by the Philips booth (#931), visit www.philips.com/HIMSS and follow the #HIMSS15 conversation @PhilipsHealth.



For further information, please contact:

Kathy O'Reilly

Philips Group Communications

(mobile) 978-221-8919

Kathy.oreilly@philips.com

Twitter: @kathyoreilly



About Royal Philips:

Royal Philips (NYSE: PHG, AEX: PHIA) is a diversified health and well-being company, focused on improving people's lives through meaningful innovation in the areas of Healthcare, Consumer Lifestyle and Lighting. Headquartered in the Netherlands, Philips posted 2014 sales of EUR 21.4 billion and employs approximately 105,000 employees with sales and services in more than 100 countries. The company is a leader in cardiac care, acute care and home healthcare, energy efficient lighting solutions and new lighting applications, as well as male shaving and grooming and oral healthcare. News from Philips is located at www.philips.com/newscenter.



Web Site: http://www.philips.com



More from Architectural & Civil Engineering Products