Mobile Lifter-Dumper handles many differently shaped containers.
Press Release Summary: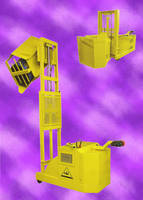 Equipped with specially-designed hopper, mobile universal lifter-dumper will lift and invert (up to 180°) any shape or size of container desired in order to safely dump its contents. Self-propelled unit offers variable-speed control from 1 fpm to 4 mph and 90° left/right steering. V-shaped dumping chute is designed to retain control of item regardless of its shape, and stop bars prevent container from sliding out during dumping. Optional conveyor bottom is available for automated loading.
---
Original Press Release:

New Mobile Universal Dumper



Air Technical Industries announces the development of a unique mobile universal lifter-dumper. The dumper will lift and invert up to 180°, dumping any shape or size of container desired, even a 55-gallon steel drum. Place any shape container in the specially-designed hopper, and it will transport, lift to desired height, and dump or invert the container.

Customers that utilize a variety of materials may receive them in a wide variety of containers. Even 30 to 40 pound containers that could be handled manually can cause serious fatigue from repetitive action. Materials of any kind stored in cardboard boxes, wooden crates, bulk bags, tote pans, 5-gallon to 55-gallon kegs and drums, plastic jugs, buckets, or anything that could not previously be grabbed and dumped, the Universal Dumper can handle it all.

The unit is mobile and self-propelled with variable speed control. The drive speed range is from 1 fpm to 4 mph and the steering is 90° left and right, providing a tight turning radius. It rides on 8" diameter roller bearing mounted polyurethane-coated wheels. The unit is battery powered and the lifting mast tilts forward and back. All functions are hydraulically operated.

The dumper is able to dump to the left and right up to 180° - the unit can invert upside down. Dumping height is up to 7 feet. The uniquely designed dumping chute is V-shaped to retain control of the item, regardless of its shape. The "V" chute and the stop bars prevent the container from sliding out during dumping.

The benefit of this configuration is that it does not require grabbing and holding the container, because many types of containers are hard to grab or grip. Containers such as fiber drums, canvas bags, paper bags or smooth cylindrical items will now be easy to lift and dump.

The unit can also be loaded automatically by conveyor with the optional conveyor bottom. A container on a conveyor will roll right into the dumper hopper, allowing quick and efficient operation.

The unit is compact and slim enough to pass through doorways and narrow aisles. The overall height of the dumper in the lowered position is only 76". A see-through mast allows the operator to see where the unit is traveling for precise positioning.

The Universal Dumper is an ideal tool for operations where there is a need to lift and dump many different shapes of containers at different or variable workstations. One machine will transport, lift, and dump. It will save time, improve safety, increase efficiency, make the job easier and improve the morale of the workplace by eliminating fatigue caused by manually handling cumbersome containers.

More from Transportation Industry Products