Mobile Forensics Kit offers data extraction, RF protection.
Press Release Summary: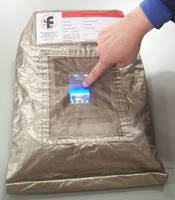 Designed to aid mobile electronic device forensic examinations, SFP1215W Forensic Pouch provides on-site data extraction capability for portable wireless devices such as smartphones and tablets utilizing capacitive sensing touchscreen. Portable, RF-tight containment device gives law enforcement community means to secure and manipulate wireless devices. Included on I/O plate, USB 2.0 connection allows connection of secured device to forensics computer in field or lab.
---
Original Press Release:

On-Site Mobile Device RF Protection and Forensics Extraction



Immediate Cell Phone Network Protection and Data Download Now a Reality with Select Fabricators' New SFP1215W Forensic Pouch

Canandaigua, NY USA: Mobile electronic device forensic examination needs practical, affordable on-site data extraction capability. Select Fabricators, Inc. is introducing a new portable, RF-tight containment device usable in field operations. The SFP1215W Forensic Pouch gives the law enforcement community the means to secure and manipulate wireless devices. The USB 2.0 connection included on the input/output plate allows the connection of a secured device to a forensics computer in the field or in the lab. The SFP1215W works with any portable wireless device including Smartphones and tablets utilizing capacitive sensing touch screen.

Weighing less than one pound, Select Fabricators' SFP1215W Forensic Pouch is more affordable and easier to transport than bulky metal enclosures. Made of flexible materials, the unit can easily be stored in a weather resistant carry bag along with evidence collection equipment in vehicles for quick deployment. An evidence card is included in a clear pouch for instant documentation.

"There is no need to take the captured device back to the laboratory to view the internal memory", said Brian Smith, Technical Sales Representative at Select Fabricators, Inc, "The see-through, soft material window allows for immediate device manipulation in the field or real time data capture when properly connected to a digital extraction device."

SFP1215W is manufactured in the USA with SFi's proprietary Silver/Copper/Nickel fabric. This conductive, flexible material is the same fabric used over the past decade at Select Fabricators to make room to table top sized RF shielded enclosures. Material test results in average shielding effectiveness of -85 dB in the range of 30 MHz to 1 GHz and -80 dB in the range of 1 GHz to 11 GHz.

The complete SFP1215WK unit includes:

The SFP1215W Forensics Pouch with mesh screen, filter plate and double fold hook and loop closure system.

Touch Screen Manipulation Insert.

USB A to B Cable, 1 Meter (length), for external connection.

USB A to Micro B, 0.5 Meter (length), for internal connection, supports most devices.

10 Wireless Evidence Cards

Weather resistant carry bag

Directions for Use

Select Fabricators, Inc. specializes in the design and manufacture of flexible solutions including RFI/EMI shielding tents, pouches and curtains, machinery covers and shrouds, aerospace covers and assemblies, cleanroom bags and assemblies, and high strength / high barrier custom bags. The common denominator to all SFI products is the use of flexible materials to provide protection and / or shielding.

For more information, visit our website: www.select-fabricators.com.

Select Fabrications, Inc.
5310 North Street Building 5, Canandaigua, NY 14424-0119
Phone: +1.585-393-0650, Fax: +1.585.393.1378
email: forensics@select-fabrications.com.

More from Electronic Components & Devices