Mobile Crane operates both indoors and outdoors.
Press Release Summary: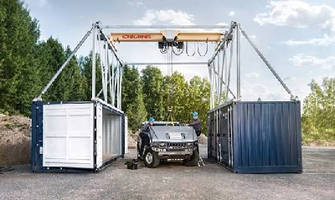 Suited for locations requiring crane for short period of time, such as vehicle maintenance, CXT Explorer combines electric overhead traveling crane on steel frame with 2 standard ISO shipping containers to create adaptable, mobile industrial crane. Lifting height and span are both 5 m. True vertical lifting helps maintain safety, with minimal chance of damage or collision. On leaving, crane can be dismantled quickly, and shipping containers that form base can double as storage.
---
Original Press Release:

A New Mobile Crane, Both Indoors and Outdoors



Sometimes an industrial crane is needed in a location for only a short period of time, such as in vehicle maintenance



Konecranes has mounted its popular CXT electric overhead travelling crane on a steel frame and two standard ISO shipping containers to create a powerful, adaptable, fully mobile industrial crane, the CXT Explorer.



"This is an outstanding opportunity for our customers to improve their lifting operations efficiency and safety on the field. This new product category brings the quality and safety of lifting from the factory building to remote site conditions" says Olli Kuismanen, General Manager, Konecranes Business Factory.



The CXT Explorer is a standard industrial crane that can be taken almost anywhere. The punchline is its patented design: it can be assembled, ready to lift, in just a few hours. With a lifting height of 5 meters and a span of 5 meters, there is plenty of room for most field lifting needs. Yet its compact size allows easy travel. On leaving, the crane can be dismantled quickly, and the shipping containers that form its base double as storage for the crane components, service tools, equipment, and spare parts.



Safe, convenient and adaptable



Sometimes an industrial crane is needed in a location for only a short period of time. A typical short-term use is vehicle maintenance in a location where a fixed overhead crane would be too expensive, take too long to install, and require a major redesign of the work space around it. In some cases, such a crane could not be installed at all, as it is needed where there is no power, or even no building. In prolonged use the crane represents a cost efficient investment.



To make an industrial crane mobile, the Konecranes CXT crane was refitted to a new structure. But the CXT Explorer is more compact and flexible: all the user needs is enough space for two ISO shipping containers, room to access them, and a full maintenance workshop, assembly station or logistics hub becomes available. Outside, it easily adapts to different environments, including places with little or no infrastructure, and can run on a generator if there is no source of electricity.



It includes thermal and weather protection for use in extreme climates and on difficult terrain. The whole crane area can be covered with a special tent to shield the users from the weather. The units can also be tethered together to provide a longer system.



Safety, reliability and productivity are at the core of every Konecranes crane, and the CXT Explorer is no exception. Because the strong and wide container base provides full support, and operation is from the ground, it's more stable than a standard mobile crane. True vertical lifting helps maintain safety during lifting, with less chance of damage or collision. It can be used by anyone permitted to using an industrial crane. All of its components have been made specifically for cranes and require fewer repairs. The idea of the CXT Explorer is all the benefits of a standard industrial crane in a fully mobile unit. Even when the crane is used in a remote area, Konecranes provides on-call maintenance in order to keep the crane running and minimize downtime.



"For the cost of less than two months of mobile crane rental the customers can buy a full-blown crane which can be relocated easily and that can be used by anyone trained to use overhead cranes. By using the CXT we get the reliability and cost level of a mass volume product to a totally new market segment. We have used the CXT crane technology in hundreds of thousands of units during its lifetime and have service and spare parts available globally", adds Kuismanen.



How do we do it? Go to YouTube and search for "CXT Explorer"



For more interesting stories about Konecranes, please visit wayup.konecranes.com. 



Konecranes is a world-leading group of Lifting Businesses™, serving a broad range of customers, including manufacturing and process industries, shipyards, ports and terminals. Konecranes provides productivity-enhancing lifting solutions as well as services for lifting equipment and machine tools of all makes. In 2015, Group sales totalled EUR 2,126 million. The Group has 11,900 employees at 600 locations in 48 countries. Konecranes is listed on Nasdaq Helsinki (symbol: KCR1V).



For more information in the South-East Asia Pacific, please contact:

Enez See Toh, Marketing and Communications Manager, South East Asia Pacific

Ph: +65-6 6601267 Mob: 65 – 9772 9853 Email: enez.seetoh@konecranes.com

Konecranes Pte Ltd, 8 Admiralty St, #06-11, Admirax, Singapore 757438

www.konecranes.com



For more information in Australasia, please contact:

Konecranes Sales and Marketing, 14-16 Heald Rd, Ingleburn NSW 2565, ph 61-2-8796 7666, fax 61-2-9605 4336, email sales.australia@konecranes.com



Sales inquiries 1300 937637 (Australia wide) or visit our website www.konecranes.com.au



Further information globally:

Press

Olli Kuismanen, General Manager, Business Factory, Konecranes

E-mail: olli.kuismanen@konecranes.com  or phone +358 40 766 5678



More from Agricultural & Farming Products