Mobile Cleanroom Unit meets ISO 14644-1 Class 5-9 standard.
Press Release Summary: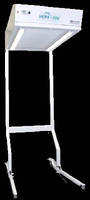 Fitted at mission-critical elements of manufacturing process line, HEPA-lite provides localized filtered air to protect processes from contamination, without need to enclose entire machine set-up within cleanroom environment. Modular system features C-frame design with low, braked castors and angle-adjustable legs for sliding under machinery. Providing average air speed of 0.45 m/s, HEPA-lite has digital pressure differential transmitter with audible and visual alarms for insufficient airflow.
---
Original Press Release:

HEPA-lite Set to Open Doors for GMP Manufacturing



A unique new product is set to minimise the costs associated with manufacturing to GMP air standards.



Award-winning modular cleanroom specialist, Connect 2 Cleanrooms, is poised to launch the HEPA-lite – a mobile, adjustable cleanroom unit which can be fitted at mission-critical elements of the manufacturing process line.  It will be unveiled at Interplas, from September 30 – October 2, 2014, at the NEC, Birmingham, UK.



HEPA-lite provides localised filtered air to protect processes from contamination, without the need to enclose the entire machine set-up within a cleanroom environment. 



The modular system is designed with the ultimate flexibility in mind.  Low, braked castors and angle-adjustable legs make the product easy to slide under machinery and the C-frame itself is built bespoke to requirements.  Its minimal footprint makes it ideal for workspaces where space is at a premium.



Managing director of Connect 2 Cleanrooms, Joe Govier, explained the reasons behind the creation of HEPA-lite.



"Currently there are huge cost implications for manufacturers wanting to take on contracts that require ISO 14644-1 standards or a Class 5-9 environment.  Our UK-based product development team has designed a product which will make this type of work available to firms for a greatly reduced initial outlay and in a much faster timescale," Joe said.



"HEPA-lite is economical, adaptable and efficient.  It effectively maintains the quality of air at points where the product is exposed, negating the need for the entire production line to be fully enclosed within a cleanroom."



The product is ideal for use on injection moulding machines, for example protecting the mould area, and can be adapted for use on conveyor systems and process and flow lines.  It is expected to be particularly attractive to manufactures in healthcare, pharmaceutical and food sectors, for both product and packaging.



Being mobile, HEPA-lite is easy to manoeuver, making it simple to perform cleaning, tool changes or to carry out maintenance on the machinery.  The product features integrated LED lighting and a digital pressure differential transmitter with digital output.  This enables the manufacturer to specify upper and lower thresholds for air pressure requirements and triggers an audible and visual warning alarm, should pressure vary outside these parameters.



HEPA-lite can also be customised to suit manufacturers' individual needs.  Side panel options are available, with either a softwall curtain or clear acrylic hardwall, and the product can be supplied with the customer's branding.



"We are very much looking forward to demonstrating HEPA-lite to visitors at Interplas.  It is a product we are extremely proud of and one which we believe will be of enormous benefit to many companies," Joe added.



Visit Connect 2 Cleanrooms on stand D81 at Interplas, the UK's leading plastics industry event.  Operations manager, Darren Brackwell, will deliver a seminar at the exhibition, entitled The Secret of Delivering Competitive Advantage Through Process Control, at 1.30pm on Wednesday 1st October.



HEPA-lite: Additional product information



• Can accommodate most machine designs

• Cleanroom conditions ISO 14644-1 Class 5-9

• HEPA Filter

• Localised clean air solution

• Digital pressure differential transmitter – sets an upper and lower air pressure threshold with an audible and visual alarm to alert for insufficient airflow

• Average air speed 0.45m/s

• Low operating noise 51 dB(A)

• Mobile

• Space saving

• Integrated LED lighting

• Optional side panels

• Easy service

• Active static neutralising bar

• Output to interface with business systems



About Connect2Cleanrooms

Connect 2 Cleanrooms is an award winning industry leader, creating modular cleanroom solutions for critical environments, both in the UK and internationally. The company designs and manufactures hard and soft wall cleanrooms in-house and delivers quality cleanroom solutions to meet the ISO 14644-1 standard required. Its consumables division, Cleanroomshop.com, supplies a full range of consumables, equipment and furniture to the cleanroom industry worldwide. www.connect2cleanrooms.com.

More from Construction Equipment and Supplies