MME Group Announces Production of Three Custom Colors for the HurryCane Freedom Edition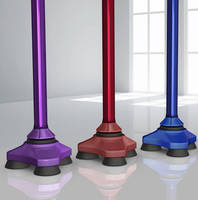 MME group announces production of three new custom colors for the HurryCane® Freedom Edition™. In 2013, the company became the exclusive manufacturer of the original HurryCane Freedom Edition in its signature black color. HurryCane is the number one selling walking cane in America.



MME group produces and assembles a variety of fresh colors at its revamped Maplewood, Minn. facilities. ZOOMWORKS, the consumer product company that owns HurryCane, chose to partner with MME group because of the company's desire to manufacture the cane entirely in the U.S.A. MME group's end-to-end manufacturing capabilities provided the perfect solution to meet their needs.



MME group manufactures the HurryCane Freedom Edition in red, purple, blue and original black. Uniquely named for their all-terrain use—Roadrunner Red, Pathfinder Purple and Trailblazer Blue—special care was taken to match the customer's exact color specifications. "We are pleased that ZOOMWORKS and MME group have partnered to produce innovative, custom colors to meet retail customers' demands," said Alexandria Schumacher, account manager at MME group.



MME group uses an anodizing process to manufacture the HurryCane in vibrant colors that are durable and resistant to corrosion. "Our anodizing process ensures that we produce high quality materials in the exact color our customers request," said Neal Waltz, program manager at MME group.



The HurryCane Freedom Edition is the company's best model yet. It's 20 percent lighter, 40 percent stronger, adjusts shorter and taller, folds more compactly, and provides even greater stability. Hence it's name, the Freedom Edition provides more comfort, convenience and stability—now in bold new colors. The final product includes the HurryCane name etched onto the cane.



With the capability to produce more than 2,000 units per day, MME group is well equipped to handle an expected uptick in production, assembly and inventory storage as a result of the unique color offering. "Production has run smoothly and we expect to meet—and exceed—our customer's deadline," said Waltz.



About MME group

MME group is a leading ISO 13485:2012 certified custom plastic injection molding company offering end-to-end integrated manufacturing solutions for simple to complex individual components and electro mechanical assemblies of small to medium-sized parts. Services include: Full product development, tooling design, in-house tool construction, production molding, electro-mechanical assembly, program management, supply chain and inventory management.



With some of the fastest turnaround times for contract manufacturing companies in the United States, MME group's speed to market is unmatched providing you with a competitive advantage on low cost manufacturing.



The MME group uses the latest technologies, quality processes, and skilled professionals—always striving to find the best solutions to fit your needs. Make MME group your contract-manufacturing partner for short lead times, highest quality and cost competitiveness. Visit mmegroupinc.com.

More from Architectural & Civil Engineering Products