MLCCs offer temperature rating to 250°C.
Press Release Summary: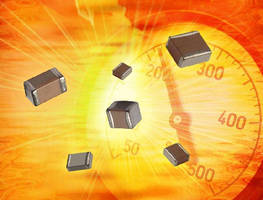 Available in 6 case sizes from 0603–2225, AT Series includes both C0G and VHT dielectrics rated at 200°C and 250°C, suitable for demanding automotive, avionics, aerospace, and energy applications. Multi-layer ceramic chip capacitors feature capacitance values from 100 pF to 1 µF and are rated for 16, 25, and 50 V operation. Termination options include Pd/Ag and RoHS-compliant 100% Sn-plated.
---
Original Press Release:

AVX Extends Its Industry-Leading 250°C MLCC Series with New Case Sizes, Voltages, & Temperature Coefficients



The only high temperature MLCCs with reliability test data at 250°C, AVX's AT Series MLCCs provide high-reliability, long lifetime performance in the most demanding automotive, avionics, aerospace, & energy applications



FOUNTAIN INN, S.C. — AVX Corporation, a leading manufacturer of passive components and interconnect solutions, has extended its high temperature AT Series MLCCs with two new case sizes (0603 and 0805), two new voltage ratings (16V VHT 250°C and 25V VHT 200°C), and new C0G and VHT temperature coefficients that differentiate the 200°C parts from the industry-leading 250°C parts. Designed to accommodate emerging military and commercial market demands for capacitors capable of high-reliability, long lifetime performance at operating temperatures in excess of the current 125°C requirement, AT Series capacitors are the only high temperature MLCCs with reliability test data at 250°C, and are rated at both 250°C and 200°C to provide engineers with optimal derating schemes. The series exhibits high current handling capabilities, high volumetric efficiency, high insulation resistance, and extremely low ESR and ESL, in addition to excellent high frequency performance and capacity retention with frequency, and low parasitics and DC leakage for circuit stability and efficiency. Now available in an extended range of sizes (0603 – 2225), values (100pF – 1µF), voltages (16 – 50V), and dielectrics (C0G and VHT), AT Series capacitors provide exceptional performance in the most demanding automotive, avionics, aerospace, and energy applications.



Specifically, AT Series MLCCs are ideal for automotive applications, including: under hood power, engine control units, and hybrid electric and plug-in electric vehicles (HEVs and PEVs); avionics and aerospace applications, including: transducers, engine controls, spacecraft, and flap and brake controls; and energy applications, including: down-hole oil exploration, logging while drilling, geophysical and geothermal probes, seismic sensors, and solar and wind energy conversion. The series can also be used as decoupling and bypass capacitors and for DC filtering in motor drives and high frequency ripple currents, and is also well suited for use in sensors and timing circuits, high-pulsed current circuitry, DC/DC power conditioning converters, DC current sensing and subsystems, AC/DC converters, and DC/AC inverters.



"The extension of our industry-leading AT Series high temperature MLCCs is a response to both military and commercial business needs, and provides design engineers in these demanding industries with an even broader range of high-temperature, high-reliability, and long-lifetime solutions for emerging electronics with maximum operating temperatures in excess of the current 125°C requirement," said Stan Cygan, senior applications engineer at AVX.



Available in both C0G (Class I) and VHT (Class II) dielectrics rated at 200°C and 250°C, AVX's new high temperature AT Series MLCCs feature capacitance values spanning 100pF to 1µF, and are rated for 16V, 25V, and 50V operation, and for temperatures spanning -55°C to +250°C. Now available in six case sizes ranging from 0603 to 2225 with two termination options (Pd/Ag and RoHS-compliant 100% Sn plated), AT Series MLCCs can be shipped on 7" or 13" reels or in bulk, and feature standard lead times. Pricing is available upon request.



For more information about AVX's AT Series high temperature 200° and 250°C MLCCs, please visit http://partbuilder.avx.com/p/pb/pdf/AT_Series.pdf. For all other inquiries, please visit www.avx.com, call 864-967-2150, or write to One AVX Boulevard, Fountain Inn, S.C. 29644.



About AVX

AVX Corporation is a leading international supplier of electronic passive components and interconnect solutions with 20 manufacturing and warehouse facilities in 11 countries around the world. AVX offers a broad range of devices including capacitors, resistors, filters, timing and circuit protection devices, and connectors. The company is publicly traded on the New York Stock Exchange (NYSE:AVX).



For more information, contact:

Nic Billig

Product Marketing Manager

AVX

864-228-3448

nic.billig@avx.com 

More from Electronic Components & Devices