Mixing Unit includes high shear homogenizer.
Press Release Summary: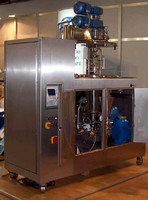 Suited for mixing, dispersion, and homogenizing systems, Quadro Mixing Unit with Serendip HSH features rotor tip speeds up to 197 ft/s under vacuum processing conditions. Unit delivers no cavitation due to processing staging and has gentle pumping discharge using low-shear force. Typical applications include toothpaste, creams/lotions, adhesives, hair gels/mousses, antacids, sauces/syrups, liquid hand soap, and car polishes/waxes.
---
Original Press Release:

Quadro Mixing Unit with Serendip HSH



Quadro is pleased to introduce the latest addition to the Liquids Processing line, the Quadro Mixing Unit with Serendip HSH. Developed in partnership with AC Serendip, this state-of-the-art mixing unit takes emulsion quality to a whole new level. The Quadro Mixing Unit is a high-shear performance solution for mixing, dispersion and homogenizing systems. Based on a new homogenizing principle, the Serendip High Shear Homogenizer HSH (patent pending) is the most flexible solution of its kind on the market today. The unit's full GMP design meets the challenges of modern mixing required for the production of semi-solid products in the Cosmetics, Pharmaceutical, Food and Chemical industries. The Quadro Mixing Unit delivers the highest shear rates with rotor tip speeds up to 60 m/s (197 ft/s) under vacuum processing conditions. This gives the Unit a distinct advantage over conventional systems which run at 25-30 m/s, maximum. The Quadro Mixing Unit also delivers no cavitation due to pressure staging, has a gentle pumping discharge using low-shear force, full and reliable scale-up, is easy-to-clean/maintain with simple, reliable components and has high viscosity capability. Typical applications for the Quadro Mixing Unit include toothpaste, creams/lotions, adhesives, hair gels/mousses, antacids, sauces/syrups, liquid hand soap, car polishes/waxes, shampoos/conditioners and body washes.

For more information, please contact:
Canada & International:
Stephen Russell-Hill
V.P. Liquids Processing Division
Quadro Engineering LP
613 Colby Drive
WATERLOO, Ontario
N2V 1A1
E-mail: sales@quadro.com
Website: www.quadro.com
Telephone: (519) 884-9660
Fax: (519) 884-0253

USA:
Joe Porcelli
Regional Sales Manager
Quadro (US) Inc
55 Bleeker Street
MILLBURN, New Jersey 07041-1414
E-mail: sales@quadro.com
Website: www.quadro.com
Telephone: (973) 376-1266
Fax: (973) 376-3363