Mitering Circular Cold Saw integrates automatic feed unit.
Press Release Summary: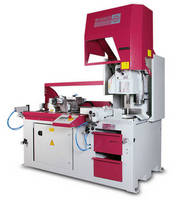 Used for straight and miter cutting of ferrous and non-ferrous metals, VMS 370A uses 14.5 in. dia blade at speeds to 64 rpm to cut various materials in round (.39–5.1 in.), square (.31–4.7 in.), and rectangular (.31 x .31 in. to 7.8 x 3.9 in.) shapes. Programming length of cut and number of pieces is enabled via control unit keypad and LCD. Mitering range is 45° to left and 60° to right, with positive stops at 45° in both directions. Vertically raised protective hood ensures safe operation.
---
Original Press Release:

Circular Cold Saw for Mitering Ferrous and Non-Ferrous Metals -- Now with Fully Integrated Automatic Feed



Morgantown PA -- Behringer, a world class provider of bandsawing machines, circular cold saws and structural fabricating equipment, has introduced the new VMS 370A circular cold saw for precision straight and miter cutting of ferrous and non ferrous metals. The previously offered semi-automatic model required users to add a separate automatic feed unit. The new VMS 370A, however, is integrated with an automatic feeding unit to provide full automatic feeding functionality which saves on cycle time and assures efficient use of material. Programming the length of cut and number of pieces is enabled by the control unit keypad and LCD display.



The new circular cold saw has a 14.5" diameter blade and will cut at a rotational speed of up to 64 RPM. The VMS 370A cuts various shapes of material: round (.39" – 5.1"); square (.31" – 4.7"); and rectangular (.31" x .31" – 7.8" x 3.9"). To position the blade for mitering, the upper portion of the machine may be manually rotated. A smooth action bearing facilitates this process enhancing accurate angle adjustments. The material being cut remains stationary. Mitering range to the left is 45 degrees and 60 degrees to the right. Total miter range is 105 degrees with positive stops at 45 degrees in both directions.



"With a feed length of 31.5 inches per single stroke," said Richard Klipp, Behringer president, "the automatic feed process is very efficient and will reduce wasted material." Klipp also stated, "the material being cut is positioned by a ball screw driven gripper which promotes speed and accuracy." Klipp explained that the gripper is mounted on a robust linear guide that is pre-tensioned to eliminate play and help assure a smooth, accurate feed.



The VMS 370A saw head traverses vertically on two square guides mounted to a cast iron frame. This design gives rigidity to the saw head permitting sustained feed rate control. Consistently high downfeed pressure is facilitated through enhanced blade control and this helps maintain production rates at desired levels. A vertically raised protective hood assures safe operation and provides quick change access for changing the saw blade.



A heavy-duty gearbox and two-speed pole changing 2.6/3.4 HP motor drives a hardened and ground worm gear and a helical gear for blade downfeed control. Smooth cutting for nearly all grades of metal is enhanced with a shock absorbing feature that lets operators keep steady, uniform pressure on the blade.  Integrated into the machine base is a re-circulating flood coolant system. An optional micro-spraying system may be activated from the control panel. Removal of chips is fast and easy with a chip drawer.



Behringer also offers an extensive range of material handling systems. Engineers can work with customers to create complete metalworking systems which include input and output conveyors, cross transfers and lift/carry systems.



For more information on the VMS 370A circular cold saw with automatic feed, contact Behringer Saws, Inc., 721 Hemlock Road, Morgantown, PA 19543. Call toll-free at 888-234-7464.

web site: http://www.behringersaws.com/   

email: sawing@behringersaws.com



About Behringer Saws



Behringer Saws, Inc. provides a full range of sawing and turnkey pre- and post-cut material handling productivity-enhancing products. Behringer supplies world-class quality automatic bandsaws to corporations, service centers, job shops and manufacturers throughout the world. The company also offers the Behringer Eisele brand of manual, semi-automatic and automatic miter circular cold saws, high performance circular cold saws utilizing bi-metal or carbide saw blades and CNC miter circular sawing systems. Also, the Vernet Behringer line of structural fabricating equipment includes high performance drilling, punching, shearing, notching and marking machines along with beam coping and drilling and sawing lines.

More from Machinery & Machining Tools