Misumi Offers Comprehensive Line of Fixed and Configurable Metal Plates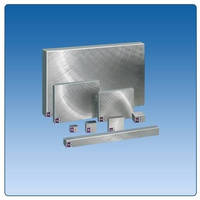 Wide range of material, configuration and finishing options to fit applications in machine-building, metalworking, factory automation, motion system design

February 10, 2009 (Schaumburg, IL) Misumi USA, Inc., a subsidiary of Misumi Corporation, part of Misumi Group, Inc. (TYO: 9962) provides an exceptionally wide range of fixed and configurable Metal Plates in various sizes, thicknesses, materials and finishes. The product line is designed to meet the diverse application needs of design engineers, manufacturing and assembly engineers, and system designers/integrators in the machine-building, metalworking, industrial automation and motion control industries.

Misumi offers its Standard Dimension Fixed and Configurable Metal Plates in a broad array of materials, including structural carbon steel, carbon steel, tool steel, pre-hardened steel, and stainless steel, as well as aluminum alloys and rolled copper.

Precision Class Metal Plates are available for users requiring exceptionally tight tolerances in plate length, width and thickness. Misumi also provides Irregular Shape Plates, which include L, U and T Shaped and Inclined Blocks, and Machined Circular Plates, in a variety of sizes.

Applications for Misumi's carbon steel Metal Plates include general machining (e.g., surface milling, surface and blanchard grinding). Applications for the stainless steel Metal Plates include machine components requiring anti-rusting properties, such as machinery designed for use in sanitary environments and in high moisture environments.

Material selection for Metal Plates will depend on the user's specific application requirements, taking into account such factors as: strength, hardness, brittleness, temperature range, weight, machinability, weldability, ferrous characteristics, resistance to wear and corrosion.

With no minimum order requirements or set up charges on a product portfolio of more than 500,000 metric and inch mechanical components, Misumi has built its reputation as the premier global supplier of high quality factory automation components. At the heart of the Misumi business model is the unique CAD configurator and web ordering system. This unique business model offers customers an effective strategy for reducing costs and gaining competitive advantage through streamlined production and assembly processes and faster time-to-market.

All pricing information and delivery times are published in the catalog and website. For more information on Misumi's comprehensive selection of Aluminum Extrusions and Accessories, please visit our website at www.misumiusa.com.

About MISUMI USA, Inc.

Located in Schaumburg, Illinois, MISUMI USA, Inc. was established in 1988 as a Subsidiary of Misumi Corporation, a part of the Misumi Group (TYO: 9962). MISUMI USA, Inc. is a leading supplier of fixed and configurable components such as single-axis actuators, linear shafts, aluminum extrusions, linear guides, XY stages and other components for factory automation and various machine builds. For a complete list of available components, please visit www.misumiusa.com.

More from Sensors, Monitors & Transducers