Waterjet Cutters and Cutting Machinery
Missouri University of Science & Technology Wins WARDJet Waterjet at IMTS Tradeshow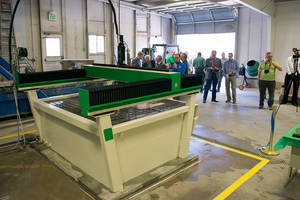 On Tuesday, November 1st, representatives from Missouri S&T, WARDJet and Hypertherm gathered at the Rock Mechanics and Explosives Research Center (RMERC) on S&T campus to inaugurate the new WARDKit 5x5 waterjet cutting system. Unlike the other machinery in the RMERC lab, the WARDKit 5x5 waterjet was won by a student team in mid-September at the International Manufacturing and Technology Show in Chicago, Illinois. The S&T group traveled to McCormick Place in Chicago to participate in WARDJet's Build It! Challenge, organized in association with the Smartforce Student Summit. The Student Summit was established to provide a forum for students, parents and educators to discover and use technologies utilized in advanced manufacturing.
This year, Ohio-based waterjet manufacturer WARDJet teamed up with the Smartforce Student Summit at IMTS to create the Build It! Challenge. During this event, over 200 individuals registered for one hour time slots to build components of a waterjet cutting system. The Build It! Challenge engaged teams of mechatronics students in a hands-on experience requiring them to assemble a high-end waterjet system. A waterjet is a CNC cutting tool that uses high pressure water, combined with a sand-like abrasive, to make detailed, highly precise cuts in a variety of materials including 10-12" steel, stone, plastics and foam using a jeweled orifice and 60,000psi. Students who participated in the build-off competition were then entered in a drawing to win the very waterjet they worked to assemble for their school's machining lab, valued at approximately $89,000.
The Missouri University of Science & Technology team consisted of Jay Schafler (Graduate Student, Explosives, Mining and Nuclear Engineering), Marty Langenderfer (Senior, Mining and Nuclear Engineering) and John Rueschmann (Senior, Mechanical Engineering) led by Research Engineering Technician Jeff Heniff. The new WARDKit waterjet equipped with a30 horsepower 60,000 psi pump will replace a decades-old waterjet table with the latest in waterjet technology. This new technology was demonstrated during the November 1st machine inauguration ceremony by cutting official S&T gear medallions. WARDJet owner Richard Ward was in attendance to award S&T the grand prize waterjet, as well as Jay Kobzik whose company Hypertherm generously donated the pump for the system. Missouri S&T Chancellor Dr. Cheryl Schrader and other administrators were also in attendance to help cut the ceremonial ribbon with owner Ward. Dr. Schrader, Ward, and RMERC staff each offered a few words of congratulation to the student team for securing the prize for the waterjet lab.
WARDJet was excited to see the impact this event had on educating students and pleased to provide this piece of high-quality, American made technology for the next generation of engineers. WARDJet is looking forward to seeing how Missouri S&T is able to use their new waterjet in valuable research over the coming years.
For more information, please visit WARDJet's IMTS webpage wardjet.com/build-it-challenge.
Related