Miniature Triaxial Accelerometer resists high temperatures.
Press Release Summary: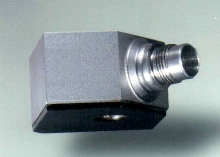 Utilizing PiezoStar® crystal element, Model 8765A250 exhibits low sensitivity variation over operating temperature of -54 to +165°C. It offers ±250g measurement range, 20mV/g sensitivity, and frequency response from 1-9 kHz with 5% deviation. Accelerometer operates in low-impedance voltage mode with power supply coupler or any IEPE-compatible power supply. Hermetic, ground-isolated enclosure provides center hole mounting for 360° cable orientation.
---
Original Press Release:

Accelerometer Resists High Temperatures


Higher performance at elevated temperatures is enabled by the use of new PiezoStar® crystal element employed in a new accelerometer from Kistler Instrument. The exclusive crystal exhibits an unusually low sensitivity variation over the operating temperature range of -54°C to 165°C for improved preciseness. Typical piezoelectric elements react less accurately to temperatures in this range.

The 8765A250 is a miniature 6.4 gram accelerometer with a ±250g measurement range and 20mV/g sensitivity. It has a wide frequency response from 1 to 9kHz with only a 5% deviation. This triaxial accelerometer operates in the low impedance, voltage mode with Kistler power supply coupler or any industry standard IEPE (Integrated Electronic Piezo Electric) compatible power supply.

With center hole mounting, the cable is allowed 360° orientation. Construction features include a welded hermetic and ground isolated enclosure.

Kistler is a worldwide supplier of precision instrumentation for the measurement of pressure, force and acceleration serving the R&D, Industrial and OEM Communities.

Related